Bludgeoned on Broadway
Bludgeoned on Broadway is an interactive murder mystery party for 8-13 guests (plus one host) published by Freeform Games.
It's 1947 and along New York City's Broadway Avenue, theatres are stuffed to capacity with anxious spectators waiting to be entertained. Inside the Arlington Theatre, it's the first scene of the new Broadway play Olympian Days, and leading actor Jackson Turner has failed to make his grand entrance! Why? He's been brutally murdered in his dressing room backstage...
Click here to download the introductory pdf file and learn more about Bludgeoned on Broadway.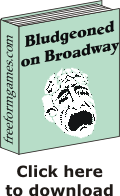 Bludgeoned on Broadway is an interactive murder mystery game - much like Freeform Games' other games such as A Dead Man's Chest and Curse of the Pharaoh. Bludgeoned on Broadway also shares many of the same features - it has the item cards and the ability cards that those games have. (Item cards are used to represent all sorts of things - from guns and knives to fabulous jewels and banker's drafts. Ability cards, on the other hand, allow the characters to detect secrets find out information about other people.)
Bludgeoned on Broadwayhas a number of different plots to keep everyone busy. For example, there is a theatre bomber, communist activity and the Midwest Murderer.
The cast of
Bludgeoned on Broadway
includes:
The actors and actresses in

Olympian Days

Various theatrical staff
Various outsiders - including the Mayor and a detective
Bludgeoned on Broadway needs a dedicated host, someone to organise the game. I really enjoy being the host - you know what's going on and can watch your friends scheme and plot and be devious to one another.
Bludgeoned on Broadway is available from Freeform Games and costs £20. To see how much Bludgeoned on Broadway costs in other currencies, use the converter. (It's pre-set to show how much £20 costs in US dollars - however please note that the exact amount will depend on the exact exchange rate at the time you buy and also the commission charged by your credit card.)
For more information about Bludgeoned on Broadway, click here to download the free introductory pdf file which includes more details - including background, a full cast list, costume guide and invitations. (The file may take a few moments to download.)
---
To purchase

Bludgeoned on Broadway

from

Freeform Games LLP

right now

click on either logo below:
You will be taken to the Freeform Games LLP website - just follow the instructions to purchase Bludgeoned on Broadway. You will then be emailed the location of the main Bludgeoned on Broadway pdf files and password (to unlock it) almost immediately. Just download the game, print it out and have a great murder mystery!
---
Disclosure: I am a partner at Freeform Games LLP - feel free to ask me lots of questions!
---