Twenties murder mystery party
These murder mystery games are all set in the 1920s and are ideal for anyone wanting to recreate the era of the flappers, gangsters and prohibition.
The 1920s . . . flappers, gangers, Bright Young Things and more. It was a great age for parties - and a great time to set a murder mystery party.
These twenties murder mystery parties are all set during the 1920s - in either England or the USA. They are ideal for people who love dressing up in period costumes!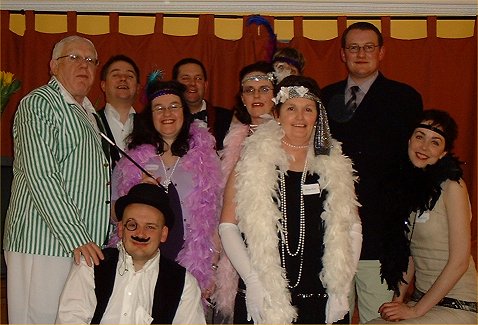 Above - I hosted The Final Curtain for this disreputable lot...

Twenties Idea: The Final Curtain
Actor Vincent Royle has died mysteriously on stage - and Scotland Yard believes it's murder. However, the show must go on and Littledown Theatre Company are called together to celebrate Vincent's life and also to answer questions posted by Inspector Blewitt.
As a member of the cast or crew, you will find yourself in the middle of treachery, blackmail and murder.
The Final Curtain is for 7 to 14 people and costs £24.99 from Murder Mystery Games Ltd.
Click here to learn more about The Final Curtain.
---