Spellbound
Spelbound is an interactive magical mystery party for 13-17 guests (plus one or two hosts) published by Freeform Games.
Set in the Tremaine School of Magic, Spellbound takes place on the last day before the summer break - and the Headmaster has been attacked! Last night a red cross was painted on his door and this morning the Headmaster, Professor Bennet, has lost his memory! Someone has used magic to attack the Headmaster - but who?
Click here to download the introductory pdf file and learn more about Spellbound.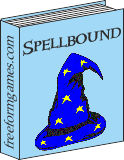 Spellbound is an interactive murder mystery game - much like Freeform Games' other games such as Hollywood Lies and Casino Fatale. Spellbound also shares many of the same features - it has the item cards and the ability cards that those games have. (Item cards are used to represent all sorts of things - from wands to potions. Ability cards, on the other hand, allow the characters to detect secrets find out information about other people. And of course many characters can cast magic spells.)
Spellbound has a number of different plots to keep everyone busy. For example, there is a mysterious amulet, the end of term exams - and of course a mystery to solve! (Note that this game does not contain a murder.)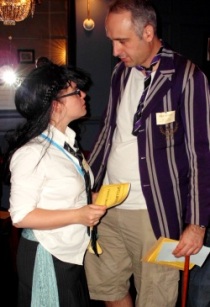 The cast of A Heroic Death includes:
Three professors:
Professor Lee Roderick

: Professor of Alchemy

Professor Riley Karlsen

: Professor of Transformation

Professor Skyler Patterson

: Professor of Foretelling
Twelve students
Angela McIntosh

: A smart, studious girl

Blair Jones

: A fun-loving, friendly student; the class clown

Casey Lansing

: A rebellious rule-breaker

Dave White

: A smart, studious boy

Erick Bennet

: The son of Professor Bennet

Jason Edwards

: The most popular boy in school, dating Shantell Andersen

Julie Andersen

: The smartest girl in school, Shantell's sister

Nina Brown

: A socially awkward, quiet student

Ryan O'Callaghan

: A good-looking, arrogant student

Shantell Andersen

: The most popular girl in school, Julie's sister, dating Jason Edwards

Taylor Martin

: A rich and popular student

Veronica Olsen

: A rich and popular student, best friends with Shantell
Two detectives
Detective Kerry Stephen

s: The head detective investigating the case

Detective Alex Rogers

: Detective Stephens's partner, also investigating the case
Spellbound needs a dedicated host, someone to organise the game. I really enjoy being the host - you know what's going on and can watch your friends scheme and plot and be devious to one another.
Spellbound is available from Freeform Games and costs £20. To see how much Spellbound costs in other currencies, use the converter. (It's pre-set to show how much £20 costs in US dollars - however please note that the exact amount will depend on the exact exchange rate at the time you buy and also the commission charged by your credit card.)
For more information about Spellbound, click here to download the free introductory pdf file which includes more details - including background, a full cast list, costume guide and invitations. (The file may take a few moments to download.)
---
To purchase

Spellbound

from

Freeform Games LLP

right now

click on either logo below:
You will be taken to the Freeform Games LLP website - just follow the instructions to purchase Spellbound. You will then be emailed the location of the main Spellbound pdf files and password (to unlock it) almost immediately. Just download the game, print it out and have a great magical mystery!
By the way, if you don't want to buy the game over the Internet, the introductory pdf file provides details of paying by post.
---
Disclosure: I am a partner at Freeform Games LLP - feel free to ask me lots of questions!
---