Your testimonials
This is a page of your testimonials - your comments and feedback on your murder mystery parties.
I would love to add your testimonial to my site - click here to tell me all about your party.
From Debbie
The Cudham Riding Club,was the first Murder Mystery Dinner that I have done. It was perfect in everyway! Expecially since we were holding it at the barn. We had over 35 people show and it was talked about for weeks after. That was last year 2006. It was so much fun everyone asked when we were going to do it again! This year in May 2007 we will be doing "The Auction". I have a few more weeks to go and I already have more sign-ups than characters. It is great fun! Thank you.
From Michelle in Newfoundland Canada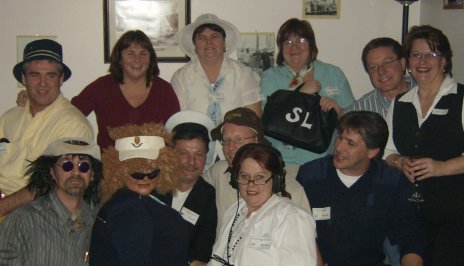 From Morgan Sowell
The Final Curtain was a hoot and a half for our party. We had a great time, and someone actually solved the mystery, which is a first for our party group, even after playing several games from other publishers. Very fun.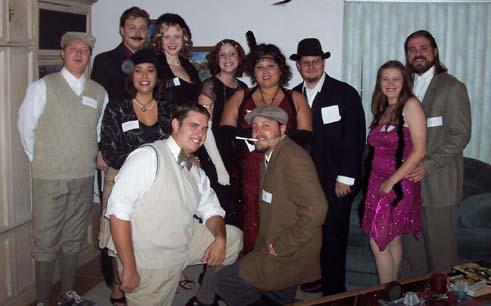 From Liz Marshall
Just to let you know that my daughter played Curse of the Pharaoh with 9 other girls for her 17th birthday party and it was a great hit. We haven't done anything like this before and admittedly it was quite a complex plot for a first attempt! However everyone loved dressing up (especially dressing as men!) and they all had a great time. Thought you'd welcome the feedback! Thanks very much.
From Nick Davison, Rochester, UK
We ran A Dead Man's Chest game on New Years Eve in Hull for a group of my former uni (Newcastle) mates, partners, family and friends. It went really well and was enjoyed by all. Among those taking part were three complete newbies and a good number of people who were just used to 'conventional' murder mystery games. The latter even said that they preferred this type of game.
From Becky Carr
I would just like to say how brilliant it [The Final Curtain] was and all my friends thought it was great! No-one guessed who the murderer was. So thank you ever so much, it was the best fun I've had in ages!
From Jane Aireton
Talking to my friends your games are much better than the ones with tapes. I have had various guests who had played murder mysteries before that weren't a patch on yours and didn't want to come...now they are raving about it! I hadn't laughed as much in years! (Death on the Gambia)
From Pippa Tee, England
We played Curse of the Pharaoh - with the amount of alcohol in attendance I think Queen Bity managed to destroy most of the human race along with the Pharaoh - she overdid the chanting we believe!!! A few confused of Hertfordshire attendants died and resurrected several times but all in all a good time was had by all!!
From Phil Bruce-Moore, England
Just a note of thanks. I was Oakley at my department's Christmas bash of Cudham Riding Club last night. We ended up with 20 plus me and everybody had a fantastic time. Some people were even making up their own sub-plots.
I've acted in Murder Mystery Weekends for 10 years or so here in Sunny Stratford which was why I suggested an MM evening, and what I particularly appreciated was how much was going on and how easy it was to operate on the night by following the excellent pack.
Only trouble is, we've got to try and top it next year.
From Bruce Gray
The game (The Auction) was a great hit, thanks from North Saanich Volunteer Fire Department. They want to do another one soon.
From David Fulton, England
All in all, a very successful evening - the second time I've seen Death on the Gambia run, and with a completely different set of outcomes. Just as enjoyable second time around however!
From Jessica Schweitzer
Everyone unanimously agreed that this (Death on the Gambia) was 100 times better than the sit-down mystery scripted games! And I've been asked several times in the past weeks when I'm doing the next one :)
From James Foord, England
Went to an 18th birthday where we played 'The Last Gasp', possibly one of the best parties I've been to; a well rounded game where everyone had their own objectives that made it a lot more fun for those who only had minor characters.
From Barbara Hass, Indiana
I thought it (Death on the Gambia) was an awesome game - we had a great time. I've played murder-mysteries, but I liked the action and mingle in your games, and the goals, allowing for more flexibility of play. Both times I played seemed like completely different games, as it worked out, which I also found to be really cool.
From Dave Romako, Pennsylvania
Just wanted to say thanks for this game. Though I'm still in high school, my friends and I have played many different mystery games-- but it doesn't look like we'll be buying any more "boxed" sets! The Last Gasp was by far the best one we've played, although it required a bit more work than I'm used to.
It was great to be able to accommodate so many guests, rather than trying to explain to everyone who wanted to play that we could only invite four guys and four girls.
---