Happy Birthday RJ
Happy Birthday RJ is an interactive murder mystery party for 12-16 guests (plus one host) published by Freeform Games.
Set in the world of the oil soap operas (along the lines of the Dallas and Dynasty television shows), Happy Birthday RJ concerns RJ Harrington's 30th birthday and coming-of-age party. It's a world of glamour - of big money, big hair and big shoulder pads. And with the dysfunctional Harrington family and their scheming friends and neighbors, it's a birthday party that anyone is unlikely to forget.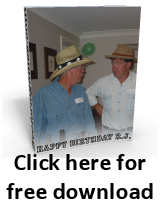 Luckily for everyone, the local deputy sheriff is also attending the party (he's a close friend of Bobby Harrington, RJ's brother). That's just as well, as Happy Birthday RJ includes a horse theft, a murder before the game and a murder during the game! And that doesn't include anything that the players might want to get up to!

Click here to download the introductory pdf file and learn more about Happy Birthday RJ.
Happy Birthday RJ is an interactive murder mystery game and each guest gets a full character sheet with detailed backstory, goals and objectives to achieve during the party, and information about other characters.
The full cast of Happy Birthday RJ includes:
RJ Harrington: the birthday boy himself
Dixie Green: RJ's long-time girlfriend
Jack Harrington: RJ's father and oil tycoon
Crystal Harrington: Jack's wife
Bobby Harrington: RJ's half-brother
Lucille Harrington: RJ's half-sister
Ali Fields: a lawyer
Billy Joe Butler: the neighbour
Sue Helen Butler: Billy Joe's wife
Sam Bond: a family friend
Rick Harper: an old school friend
Deedee Taylor: Dixie's best friend
Dolly Douglas: close friend of Lucille
Drew Morrison: the town doctor
Randy Coltrane: the deputy sheriff
Plus the person organising the evening.
Like other interactive murder mystery games, the final outcome of
Happy Birthday RJ
is up to the players themselves. They each have their own character with their own desires and objectives - and it's up to them to interact with the other guests and try to achieve their goals (not everyone will succeed, of course!).
Happy Birthday RJ needs a dedicated host, someone to organise the game. I really enjoy being the host - you know what's going on and can watch your friends scheme and plot and be devious to one another.
Purchasing Happy Birthday RJ
Happy Birthday RJ is available from Freeform Games and costs $29.99 or £20 GBP.
For more information about Happy Birthday RJ, click here to download the free introductory pdf file which includes more details - including background, a full cast list, costume guide and invitations. (The file may take a few moments to download.)
---


To purchase

Happy Birthday RJ

from Freeform

Games

right now

click on either logo below:
You will be taken to the Freeform Games website - just follow the instructions to purchase Happy Birthday RJ. You will then be emailed the location of the main Happy Birthday RJ pdf files and password (to unlock it) almost immediately. Just download the game, print it out and have a great murder mystery!
Happy Birthday RJ questions
I purchased and downloaded Happy Birthday RJ and I believe everything I need for my party. I'm choosing to play the Maid so I can keep the party flowing smoothly. The game contains 15 characters 16 including the maid, but I read somewhere that there was an additional character that I could choose to use if I needed to. How do I get that additional character for this game?
There are currently two extra characters for Happy Birthday RJ - Ginger Roberts (a roving reporter) and Robin Brown (a personal trainer).
Both are available from the same page that you downloaded the original game from - so if you've got the welcome email from Freeform Games you can go back to the download page and you should see the extra characters there.
I am very interested in buying the Happy Birthday RJ murder mystery game and I love the storyline. However, I will have 11 guests overall including me. Would you be able to tell me a character that is not important and I can cut out, or I (as the host) will be able to play as a side-role?
As Happy Birthday RJ is for 11 to 15 guests (plus the host), I suggest that you play one of the characters and host the game at the same time. That will probably be easier than removing one of the characters, which will require a fair bit of rewriting.
Click here to learn more about playing a murder mystery game and hosting at the same time.
Of course, the best solution would be to find another person who can play the game with you. (Or even better, another four or five people so that you use all the characters.)
And if you still want to rewrite the game to remove a character, then I suggest you contact Freeform Games as they may let you have the original MS Word files that you can edit.
---
Disclosure: I am a partner at Freeform Games - feel free to ask me lots of questions!
---