playing and hosting a murder mystery game
This article provides advice on playing and hosting a murder mystery game (in particular a Freeform Games murder mystery) at the same time.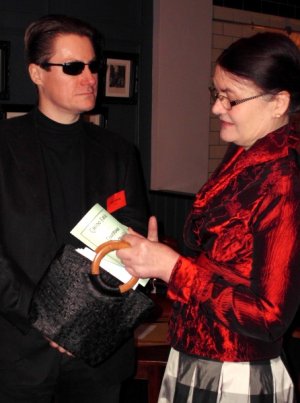 Sinister dealings in Casino Fatale
playing and hosting
Freeform Games' murder mysteries are designed so that one person is the host and everyone else takes the part of a character.
The host usually takes a neutral role - often a servant.
But what do you do if you want to play the game as well?
Or if you you don't quite have enough people and you need to play the game as well as host it?
These are two slightly different situations but they have a lot of overlap.
making up the numbers
If you don't quite have enough guests for your game (or someone drops out at the last minute), you may want to take on a role just so that you can make up the numbers and actually host the party.
For example, Casino Fatale is for 15-30 guests, plus a host. If you only have 14 guests, then you will need to take on the role of one of the characters so that you have the minimum number of characters.

Deciding which character you should take is a matter of taste - but I recommend choosing one that has least impact on the game.
If you're making up the numbers, this may be difficult because all of the mandatory characters will have some impact on the game.
I recommend that you don't play either the murderer or the detective (if there is one) as that won't really be fair.

wanting to take part in the murder mystery
On the other hand, you may have enough guests to play the game, but you just want to take part.
In that case you should take one of the optional characters.
Again, deciding which character to take is up to you, but it should be easier to choose a character with less impact on the game as you will have more to choose from.
(And if you've filled your party, you will have to write your own character! But that's a whole other article.)

impartiality and playing to lose
In both cases, it's important to be able to separate when you're being the host from when you're playing the character.
As the host you need to be impartial and you will probably need to make some decisions that affect "your" character.
I advise that if you're put in the position of having to make a decision that will either benefit or hinder your character, you should always hinder your character so that you aren't accused of cheating.
(In fact, it can be a lot of fun setting yourself up to be duped and swindled by your guests.)

Also, if someone is having difficulty achieving their goals, you can help them. For example, if one of the agents in Hollywood Lies is having difficulty signing anyone up, then you can sign up to them yourself.

tips for playing and hosting simultaneously
If you play a character as well as host a murder mystery game, please remember the following:
You will know who the murderer is so you should leave solving the mystery to your guests.

You will know many other characters' secrets and problems - you are on your honour not to take advantage of that fact.
You will need to act as host for much of the time. Therefore you shouldn't take a key role - leave those for your guests.
Don't forget that as well as the host's game duties, you need to think about catering and housekeeping as well. Don't become so wrapped up in your character that you forget all of that.
I suggest that you shouldn't expect to use any abilities.
Try to avoid playing characters that will become heavily involved in things like combat.
Make sure that you explain to your other guests at the start of the party that you are playing a character as well as hosting.
If you have played a character at the same time as hosting a Freeform Games murder mystery party, I'd love to hear about it. Click here to contact me and tell me all about it.
Games designed to be played and hosted
Death in Venice and Reunion with Death have been designed to be played online using video chat - and they are also suitable for the host to play a character.
Here's my story of how I simultaneously hosted and played Death in Venice.