New GAme Lockdown Murder mystery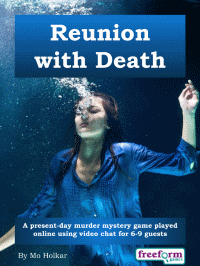 Reunion with Death - a lockdown murder mystery for 6-9 players played using online video chat. Click here for more details.
And click here for online murder mystery party tips!
Don't know where to start?
Here's my suggested quick route through the site:
Step 1 - Go to Choosing a Game to choose the game that suits your party best.
Step 2 - Review the Tips for Hosts for helpful advice.

Step 3 - If you want to keep up to date with the latest murder mystery game news, click on my What's New page.

Step 4 - Once you've had your party - tell me how it went! Click here to tell me your murder mystery party story.

Jul 10, 21 02:31 PM

Murder mystery team games for up to 300 guests!

Jun 18, 21 05:51 AM

Are the scripts set up so that the murderer is not always the same person allowing you to play more than once with the same group of friends? My response:

Jun 10, 21 02:00 PM

I am a teacher of Law in a school in the UK. I would be really interestede in running a murder mystery game in 4 weeks time as part of our student enrichment.