tips and suggestions for holding a fantastic kid party idea
My experience as a parent, uncle, and ex-child is that kids love playing games.
This page is all about hosting murder mystery games for your kids.
(And to be honest, the interactive murder mystery games I talk about here bring out the kid in me.)
not just for grown-ups
Some of these party games are a bit different to the other games on this site.
They're not all interactive murder mystery games - I hope you like the wider choice.

"Just to let you know that my daughter played Curse of the Pharaoh with 9 other girls for her 17th birthday party and it was a great hit. We haven't done anything like this before and admittedly it was quite a complex plot for a first attempt! However everyone loved dressing up (especially dressing as men!) and they all had a great time. Thought you'd welcome the feedback! Thanks very much." From Liz Marshall
hosting a game for kids
Based on my experience of running murder mystery games for kids (and I'm not an expert by any imagination), here are a few things to look out for.
Lots of introductory blub: Some games (including the Freeform Games parties) provide a fair amount of pre-party information, including the invitation, a background newsletter and other things.
Don't expect kids to read much more than the invite - and even then, not a lot of that.
A longer introduction may be needed: As a result of kids not wanting to read anything beforehand, you may need a longer introduction.
So you may have to take longer to set the scene and go through any rules. That, however, is balanced by the next point.

A shorter running time: If my experience is anything to go by, an all-kid group will blast through plots and secrets and will probably finish in a much shorter time than you might otherwise have expected.

Shyness: Kids can be shy (I know I was) and don't like looking like idiots in front of their peers.
So as a host you may find that the first part of a game consists of you answering their personal queries privately.

Four years makes a lot of difference: You may find that some older teens are too self-conscious to get fully into the game - while 12 year olds throw themselves into it and quickly get completely immersed.
There's also a big difference between a 12 year old and a 16 year old, and they may not mix very well together.
(That means that birthday parties might be the best place to run a murder mystery game as all the kids are likely to be more or less the same age.)

Friends: Where possible, cast real-life friends as friends in game.

suggested kid party ideas
Playing with grown-ups: The easiest way to play with kids is to just incorporate them in the regular murder mystery parties described elsewhere on this site.
Although there are often younger characters in the games, you might want to vet them first to ensure that they are suitable.
This works really well when you have only one or two kids, but is a little trickier when you have more kids than grown-ups.
In that case you may need to consider your casting choices carefully (you may want to pair up kids and their parents) - or choose one of the options below.

way out west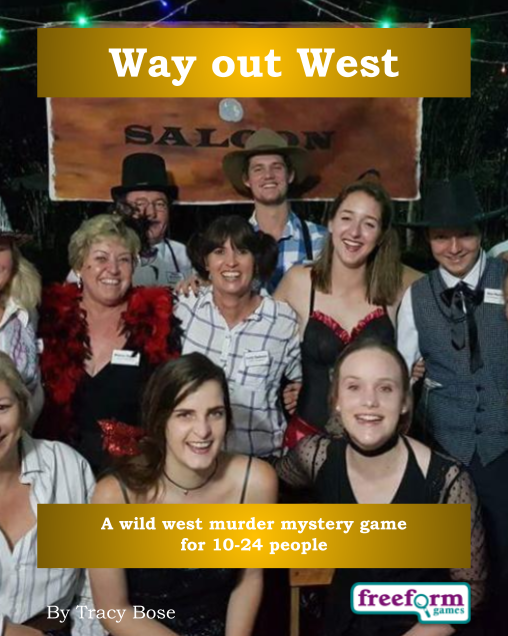 Way out West from Freeform Games
Way out West is an interactive murder mystery game set in Cactus Gulch, a small town in America's Wild West.
Way out West is for 10-24 kids, plus you'll need someone to host it.
Set in Cactus Gulch's saloon, Way out West features land disputes, cowboys and lawman, disreputable card games, strange folk from out of town and hostile Indians...

Freeform Games wrote Way out West as a family-friendly game to start with, but they've had a good deal of feedback from people who've run it for groups of kids and younger teens, for birthday parties and the like.
So they've now written a version of the game specifically for kids, and they're giving it away free with the standard game!

Click here to discover more about Way out West.

pirate island / trick or treat / monster mash

These three games are slightly different - they're not murder mystery parties but are instead themed interactive parties that last about an hour and are suitable for including into a larger party.
In Pirate Island, pirate ships have gathered off a small Caribbean island to take part in the Pirate Games and quest for treasure.
Whoever wins the most doubloons is the winner!

In Monster Mash and Trick or Treat, gangs of monsters are competing to see who can become the best monster gang in the haunted county of Hallowshire.
The gang with the most gold wins! (Trick or Treat is the Halloween version of Monster Mash.)

The party games are for 6 to 24 kids and are suitable for ages 8 and up (they're great for adults as well!).
They're all published by Freeform Games.

Click here to go to the Freeform Games website and download the free intro pdf to learn more about Pirate Island.

Or click here to download the free intro pdf and learn more about Trick or Treat.

Or click here to download the free intro pdf and learn about Monster Mash.

hollywood lies and halloween lies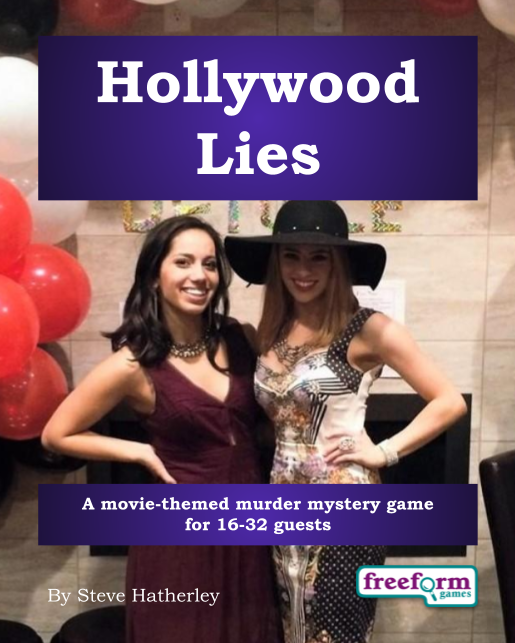 Hollywood Lies is an interactive murder mystery game for 16 to 32 kids set in the fabulous world of Hollywood.
Dazzled to Death has swept the board at the Eric Awards ceremony - and it is now the time of the post-awards party.
However, Dazzled to Death's leading actor has been killed - is it murder?
As well as solving the murder, Hollywood Lies includes a movie-making game - there are three producers who need to make their movie.
Each movie needs a screenplay, actors and a director - and the cast and crew of the movie act out a scene from that movie.
Hollywood Lies is suitable for older kids aged 14+.

Halloween Lies is the Halloween version of Hollywood Lies. The two games are the same, but Halloween Lies has a horror movie theme.

Click here to learn more about Hollywood Lies

Click here to learn more about Halloween Lies

mysteries on the net
Mysteries on the Net produce games where the emphasis is on solving the murder.
While their adult games can be quite fiendish - their kids' games are much simpler.
In all their games a few kids play the suspects, while the everyone else is a private detective trying to solve the mystery.
The Sticky Case of Chuckles the Clown is for 8 to 20 10-12 year olds.
The Curious Case of the Lost Elephant is for 8 to 20 9-12 year olds.
The Mysterious Case of a Quarterback in Space is for 8 to 24 13-16 year olds.
The Hair-Raising Case of Rapunzel's Green Tresses is for 12 to 30 13-16 year olds.
The Perplexing Case of the Pilfered Pooch is for 8 to 20 8-11 year olds.
The Ghostly Case of the Haunted Amusement Park is for 8 to 20 kids.
The Strange Case of the Disappearing Presents is a Christmas game for 8 to 25 kids.
Click here to go to the Mysteries on the Net site and learn more about their games. (Make sure you click on the "Looking for a Kids Mystery" link when you get to the site.)