Write your own murder mystery party
Writing your own murder mystery party, particularly the intricate interactive parties produced by Freeform Games (such as Hollywood Lies, Death on the Gambia and Murder at Sea), is extremely rewarding but can seem overwhelming.
But it's actually fairly straightforward and can be broken down into a simple process, as I outline in my book, Writing Freeform Larps.

what is a freeform? and what is a larp?
Larp means "live-action roleplaying", which is like tabletop roleplaying (like Dungeons and Dragons) but is played standing up while wearing costume and often takes place outside. A "freeform" is a type of self-contained larp with detailed characters and lots of different plots.
Freeform larps are interactive roleplaying games involving anywhere from six to as many as eighty players, all with detailed character backgrounds. I've called them freeforms since the early 90s, and I find it hard to call them anything else.
(We called our company "Freeform Games" because we were bringing these kinds of games to a wider audience, disguising them as murder mystery games.)
So, Writing Freeform Larps explains how you can write your own murder mystery party.
(You can get it in book form at Lulu, or as a pdf from DriveThruRPG or Itch.io)
Why didn't I call the book "writing murder mystery games"?
Murder mystery games are a subset of larps, and because I didn't want to write two nearly-identical books, I called it Writing Freeform Larps.
The book covers writing murder mysteries but also includes rules and systems that I've used for freeform larps that I wouldn't include in a murder mystery parties. (But you can include them – you can make your murder mystery as crazy as you like!)
writing freeform larps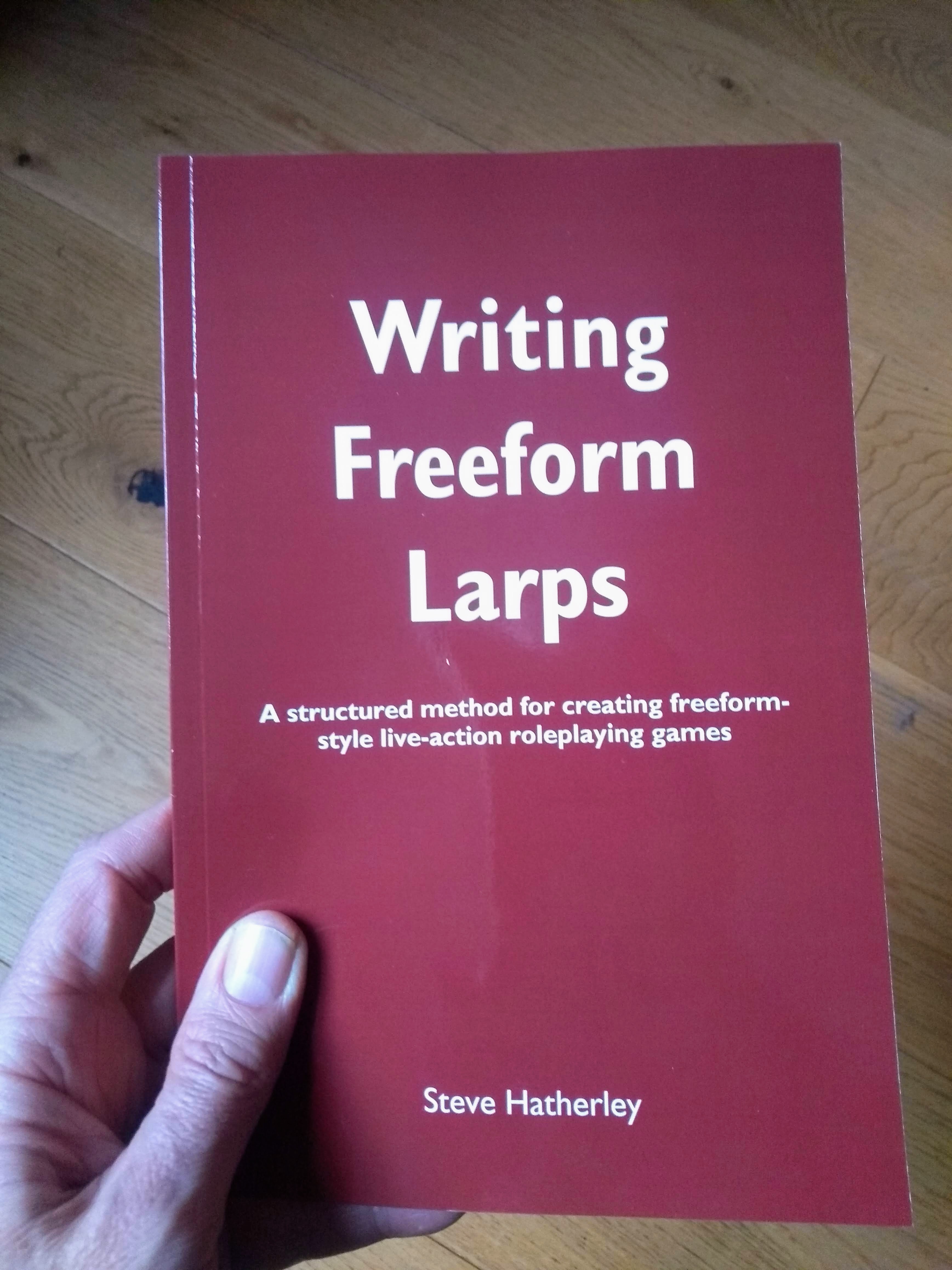 Writing Freeform Larps is a 154-page book outlining a structured process for writing freeform larps, covering the initial concept through to running the game. Topics include writing plots (including murder mysteries) and characters, character sheets, and rules and mechanics.
Writing Freeform Larps contains everything you need to write your own murder mystery party.
contents
1 Introduction: A short explanation of freeform larps and why I wrote the book.
2 The process: The ten-step process I use to write my freeform larps.
3 Character sheets: A detailed look at freeform character sheets.

4 Structure and events: How I structure my freeforms, from game start through to wrap.
5 Plots: My four-step process for planning and writing plots – including murder mysteries.
6 Characters: What makes a good freeform character?
7 Rules and mechanics: A discussion of freeform larp mechanics, including combat, romance, contingencies, crime and punishment, abilities—and more.
8 Running freeform larps: How I run a freeform larp.
Appendix A: Freeforms: Details of the freeforms mentioned in the text, along with links.
Appendix B: Abilities: Example abilities from several freeforms.
Appendix C: Other freeform styles: A discussion of other freeform styles, including horde games, workshop games and faction games.
Appendix D: Where to find more: Links to other resources.

My freeform writing process
This is a summary of my writing process (discussed in much more detail in chapter 2):
Concept and constraints: Ideas and setting boundaries.
Themes: What is the game about?
Character types: In broad-brush terms, who are the characters?
Outline characters: Characters in more detail – their public and private faces.
Character sheet layout: What the character sheet will look like.
Structure: Determining the freeform's structure.
Plots: Writing plots – the heart of the process.
Rules and mechanics: Deciding on rules and mechanics.
Background: Writing the game background.
Finishing off: Getting it finished and ready to run.
(In reality, I hop between sections as the muse takes me. But the overall flow follows this process.)

Where can I get writing freeform larps?
Writing Freeform Larps is available from:
Let me know what you think of Writing Freeform Larps in the comments below.
And if you write your own murder mystery party, I'd like to hear about that as well!