New GAme Lockdown Murder mystery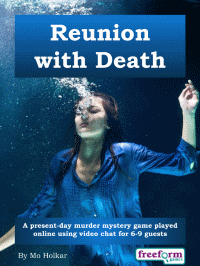 Reunion with Death - a lockdown murder mystery for 6-9 players played using online video chat. Click here for more details.
Don't know where to start?
Here's my suggested quick route through the site:
Step 1 - Go to Choosing a Game to choose the game that suits your party best.
Step 2 - Review the Tips for Hosts for helpful advice.

Step 3 - If you want to keep up to date with the latest murder mystery game news, click on my What's New page.

Step 4 - Once you've had your party - tell me how it went! Click here to tell me your murder mystery party story.

May 07, 20 11:52 AM

Hi there! I am thinking of buying Reunion with Death -- what a super idea!! My question is, once purchased, is it clear which 6 people are needed for

May 03, 20 06:31 AM

For the top three murder mystery games for 10 or less people - how long does each one last? My response: The games all take roughly the same sort of

Apr 06, 20 02:38 PM

Think you can't play an interactive murder mystery game in lockdown? Think again as this post on the Freeform Games site explains...