Death in Venice
Death in Venice is present-day murder mystery game for 5 to 9 people played using online video chat and published by Freeform Games.
(Note that if you click on the link below and then buy Death in Venice I will earn a small amount of commission.)

the story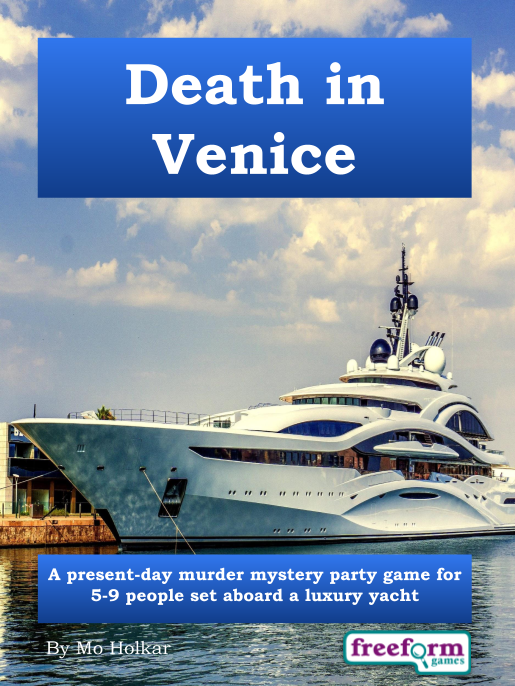 Last night at the glamorous Venice Film Festival, controversial director Clay McFarland picked up the prestigious Golden Lion award for this season's hit movie Never Look Back. But this morning, he was found lying in front of St Mark's Cathedral – hacked to death with a meat cleaver.
The stars of the movie and their guests supposedly spent the night on the Casanova, their luxury yacht – but it seems that someone was up to no good. Traces of McFarland's blood found on the Casanova's dinghy mean that police are confident that the culprit is one of those now aboard the yacht.
Everyone now is confined to their cabins, while the police start their investigation. The only way they can communicate is online.

As cathedral bells toll out across the ancient city, on board the Casanova a frothy ferment of vineyards, memoirs, gossip, jealousy, and movie-set punch-ups will come to the boil. Charge your glasses, put on your designer sunglasses, and join the cast and crew of Never Look Back as they try to solve the mystery of Death in Venice!
how Death in Venice works
Death in Venice is an interactive murder mystery game, which means that each player receives a detailed character background including full backstory, objectives for them to try to achieve, and information about the other players.
However, unlike many murder mystery party games, Death in Venice is designed to be played completely online using video chat. Ideal for coronavirus lockdowns!
the cast
The cast of Death in Venice includes:
Célestine de Vincennes – Decadent French minor aristocrat, reputed to be fabulously wealthy
Courtney Keller – Personal assistant to Landor Hammond. Always seems to be rather busy
Cruz Vicente – Journalist covering celebrity material for the Celebrity Online website
Daniel Setters – The star of Never Look Back – a strong and soulful leading man who mingles tough with tender
JJ Kowalski – Expert film editor, responsible for the narrative thrust of Never Look Back
Landor Hammond – Tech mogul responsible for a string of online businesses, and owner of the Casanova
Lyra Spark – Hugely successful pop star, currently thought to be trying to develop a side career as an actor
Mary-Lou Sinclair – The other star of Never Look Back, a skilled and versatile leading lady renowned for her ability to express subdued emotion
Tindall Nobbs – Supporting actor in Never Look Back, famous for a friendly and approachable demeanor
the details
Death in Venice is designed to be played using online video chat - it includes full details for setting up the game using Google Hangouts. Other video chat systems are available - you don't have to use Google Hangouts.
You will need several separate hangouts - a main hangout for announcements and for everyone to meet, and then other hangouts for people to conspire quietly on their own.
Death in Venice needs a host, someone to organise the game. They will set up the online chat, and will be available to help with questions.
I really enjoy being the host - you know what's going on and can watch your friends scheme and plot and be devious to one another.

And the host can play too!
Unlike most of the Freeform Games murder mystery parties, the host can play Death in Venice. As it's written to be played online (in lockdown) it doesn't have items or money that require the host to manage and adjudicate.
So the host can play too!
Of course, you can host Death in Venice normally as well. (You can choose which version to download - or download them both.)
how to get Death in Venice
Death in Venice is available from Freeform Games and costs $29.99 USD.
or download the free intro file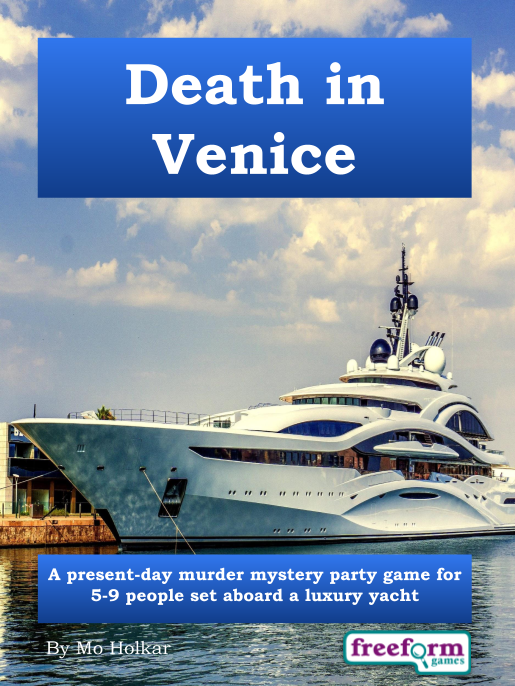 For more information about Death in Venice, click here to download the free introductory pdf file which includes more details - including background, a full cast list, costume guide and invitations.
Disclosure: I am a partner at Freeform Games - feel free to ask me lots of questions! (I will also earn commission if you buy Death in Venice.)