REunion with Death
Reunion with Death is present-day murder mystery game for 6 to 9 guests played using online video chat and published by Freeform Games.
(Note that if you click on the link below and then buy Reunion with Death I will earn a small amount of commission.)

the story
Reunion with Death is set at a 15-year high-school reunion, in smallish-town America. Former students are gathering in the town's main hotel, ahead of the big party tonight.
But one of them, former prom queen Mikolette Lukanis, has been found murdered in the hotel swimming pool!

Everyone is locked in their individual hotel rooms, pending a full police investigation and the only way they can communicate is using the hotel's video system. High-school rivalries will re-emerge, old grudges and secrets will surface: along with a heady mix of present-day envy, betrayal, and lust.
Restock the minibar, put on your complementary terrycloth robe and slippers, hang out the 'Do Not Disturb' sign, and join the alumni of Holborrow High as they prepare for their Reunion with Death!
how Reunion with Death works
Reunion with Death is an interactive murder mystery game, which means that each player receives a detailed character background including full backstory, objectives for them to try to achieve, and information about the other players.
However, unlike many murder mystery party games, Reunion with Death is designed to be played completely online using video chat. Ideal for coronavirus lockdowns!
In my opinion, interactive murder mysteries are the best form of murder mystery game. But don't just take my word for it...

the cast
The cast of Reunion with Death includes:
Charles Masinga – Former high-school-band member, now a professional musician
Damian Lukanis – Former chess club captain, married to Mikolette Lukanis, now an architect
Elizabeth Rondel – Former library monitor, now a police officer
Frieda Gilbert – Former 'nice girl', now a beautician
Jay Fitzgerald – Dropped out of high school, now a software developer
Ross Tallowah – Former swim team star, now runs a café
Rowan Silverberg – Former grade-A student, inherited money and now a dilettante
Suzanne Cardigan – Former goth outsider, now a journalist
Taylor Michaels – Former science whiz, now cares for elderly parents
the details
Reunion with Death is designed to be played using online video chat - it includes full details for setting up the game using Google Hangouts. Other video chat systems are available - you don't have to use Google Hangouts.
You will need several separate hangouts - a main hangout for announcements and for everyone to meet, and then other hangouts for people to conspire quietly on their own.
Reunion with Death needs a dedicated host, someone to organise the game. They will set up the online chat, and will be available to help with questions.
I really enjoy being the host - you know what's going on and can watch your friends scheme and plot and be devious to one another.

And the host can play too!
Unlike most of the Freeform Games murder mystery parties, the host can play Reunion with Death. As it's written to be played online (in lockdown) it doesn't have items or money that require the host to manage and adjudicate.
So the host can play too!
Of course, you can host Reunion with Death normally as well. (You can choose which version to download - or download them both.)
how to get REUNION WITH DEATH
Reunion with Death is available from Freeform Games and costs $29.99 USD.
or download the free intro file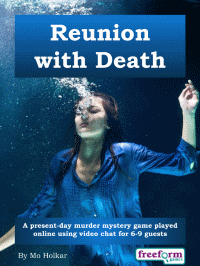 For more information about Reunion with Death, click here to download the free introductory pdf file which includes more details - including background, a full cast list, costume guide and invitations.
Disclosure: I am a partner at Freeform Games - feel free to ask me lots of questions! (I will also earn commission if you buy Reunion with Death.)