the last gasp
The Last Gasp is a Victorian interactive murder mystery game for 14 to 40 guests, published by Murder Mystery Games Ltd.
(Note that if you click on the link below and then buy The Last Gasp I will earn a small amount of commission.)

the story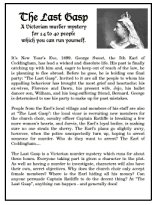 It is New Year's Eve 1899 and George Sweet, the 5th Earlof Coddingham plans to leave the country before his wicked and dissolute past catches up with him.
Before he goes, he is holding one last party - The Last Gasp.
Invited to it are all the people who have suffered as a result of his appalling behaviour - he is determined to use his party to make up for past mistakes.
At least, that's the plan...
At The Last Gasp you will find yourself in an enthralling plot of intrigue and blackmail. You will be in the middle of the action - it will be up to you to scheme and plot against the other guests.
Can you get your revenge, keep your skeletons kept locked in the closet and unmask the murderer?
It's up to you.
The Last Gasp typically runs for two to four hours. It is often played over a meal - a finger buffet if possible to allow guests to circulate and talk in private.
last gasp stories
"Went to an 18th birthday where we played 'The Last Gasp', possibly one of the best parties I've been to; a well rounded game where everyone had their own objectives that made it a lot more fun for those who only had minor characters." James Foord, England
"Just wanted to say thanks for this game. Though I'm still in high school, my friends and I have played many different mystery games-- but it doesn't look like we'll be buying any more "boxed" sets! The Last Gasp was by far the best one we've played, although it required a bit more work than I'm used to.
"It was great to be able to accommodate so many guests, rather than trying to explain to everyone who wanted to play that we could only invite four guys and four girls." Dave Romako, Pennsylvania
See also this great feedback from someone who enjoyed The Last Gasp.

how the last gasp works
Unlike most boxed murder mystery games, The Last Gasp lets you decide how you are going to solve the mystery and achieve your objectives.
You will choose who to talk to, and what to ask them.
On the evening, the guests will be met by the organiser, Sam Jenkings, George Sweet's legal advisor.
The guests then receive their detailed backgrounds - including dark secrets, objectives and money.
The fun then begins as everyone questions, bribes and blackmails each other.
Everyone is trying to find out who the murderer is, but they also have other objectives - and they decide how achieve them!

Captains, Doctors, Dames - even Queen Victoria herself - characters of all sorts have been invited to The Last Gasp.
Who will you be?

Purchasing the last gasp
The Last Gasp is available from Murder Mystery Games Ltd and costs $44.99.
Purchasing The Last Gasp is simple. Connect to the Murder Mystery Games Ltd website and follow the instructions! You will then receive information on how to download the main file almost immediately. Just download the game, print it out and have a great murder mystery!
And please remember that if you buy The Last Gasp you are buying it from Murder Mystery Games Ltd (the publishers). Don't forget to read their terms of trade.