murder mystery usa
Team-based murder mystery parties for as many as 300 guests!
murder mystery usa
Murder Mystery USA create a range of murder mystery games catering for up to 300 guests. They offer a huge range of themes, including wild west, halloween, 1920s gansters and more.
They also publish smaller round-based games for 4-8 players (like the old How to Host a Murder Party games).
Note that I am an affiliate of Murder Mystery USA and if you click through the link below and then buy a game, I earn a small amount of commission from the sale.

games include...
Caribbean Cruise: A wonderful nautical murder mystery theme for those that love the thought of sailing the seven seas. Pirates, ghosts, backstabbing and treasure make this a great story. People love to dress as sailors, high society passengers and pirates and your guests will look fabulous.
Tracy Gang 1920s: A fabulous 1920s gangster murder mystery party theme. People love to dress as gangsters, flapper girls, godfathers and hitmen. (This one is for up to 300 people!)
Hollywood Scandal: Our most popular murder mystery theme. People love to dress as the actor or character they have always dreamed of becoming. Some people even have a glamour night with guests walking the red carpet in their black tie finest.

Wild West: Our wild west murder mystery takes you back to your childhood days of playing Cowboys and Indians on the frontier. People really have a great time when they dress as a saloon girl, brave or outlaw.

Eighties Extermination: Are you a child of, or did you live through the 1980s? The 1980s was a time of heavy metal rock and awesome movies. If you want the party of the decade then Eighties Extermination is the murder mystery party for you!

Christmas Capers: Instead of the same old dull Christmas party where people eat snacks, drink cocktails and talks about work, you could have a murder mystery party to liven up the night. Your guests could dress as characters from the murder mystery party game, which takes place at Santa's workshop at the North Pole. Someone could portray Santa, while others dress as elves, toys, reindeer or snowmen.

Haunted Horrors: Love ghosts and ghouls? Then this is the murder mystery party for you. Set in Nosferatu's castle you will love the amazing costumes your friends arrive in. Glass of blood anyone?

Ronald Frump The Musical Murder Mystery: Our man is out of the house but not forgotten. Is it time to kill Ronald Frump?

Soap Opera Slaughter: We love our Dallas and our 90210. Now you can relive a day of shooting on the amazing soap opera Devotions.
Bogan Bride and the Billionaire: We all know a bogan (redneck) and why shouldn't they meet a billionaire and find love?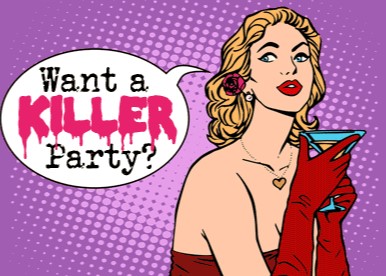 Custom Made: You and your friends can enjoy one of our high quality murder mystery boxed games designed just for you. Choose your own character names, theme, setting and much much more.
Hippie Homicide: Let's go back to the 1960s and Woodstock and enjoy a Hippie Homicide.
Serial Slaughter: Serial killers present a whole new world that is so far removed from the every day. Join this depraved gang of cannibals, kidnappers and poisoners as we take a walk through history with a serial killer or two.
Outback Ordeal: Love the Australian outback? The dust, the long winding roads and the infinite number of places to bury a body? Don't be shy, pay us a visit in Wolfe Creek!
Tokyo Terror: Experience Tokyo Terror with this Japanese inspired murder mystery! Enjoy a world of Shoguns and working to death. This is a timeless classic Japanese themed murder mystery that can be set in any time period.
how they work
These games are designed with 15 central characters, with the remaining characters based on the game size.
One of the central characters gets murdered and another is the murderer (but the murderer doesn't know that they are the murderer).
Clues are provided in three rounds - one following a quiz and another following a challenge.
Here's a detailed video on YouTube explaining how they work.
how to buy
Click here to go to the Murder Mystery USA site and learn more about their games.

how are these different from the other murder mystery parties?
By the way, if you're not sure what the difference is between these murder mystery games and other types of parties - click here to learn about the different types of murder mystery party games.