The Reality is Murder
The Reality is Murder is an interactive murder mystery party for 23-30 guests (plus one host) published by Freeform Games.
(Note that if you click on the link below and then buy The Reality is Murder I will earn a small amount of commission.)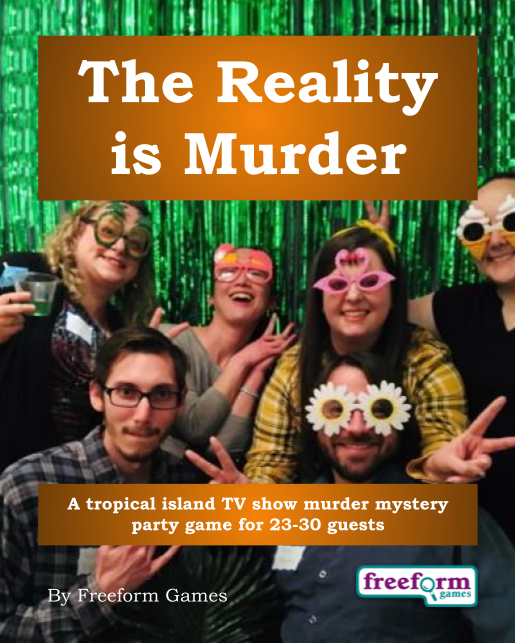 the story
It is 2003 and Tribal is Network 123's reality show where 12 people live on Moko Shanti, a beautiful tropical island. Every few days, contestants vote each other off the island. Now, only three contestants are left.
Tonight, everyone has returned to the beach where the final Tribal Meeting will be broadcast live and the winner of the $1,000,000 prize will be decided.
Unfortunately, all is not well. Jeff Thompson, Tribal's creator and director, has been found dead on the beach…
how the reality is murder works
The Reality is Murder is an interactive murder mystery game. Players receive complete details of their character, including detailed backstory, objectives they must try to achieve, and information about other characters.
They also have item cards (representing weapons, passports, documents and so on) and abilities (that let them detect secrets and discover information about other people).
In my opinion, once you've played an interactive murder mystery game, you won't want to go back to any other style.
the cast and plots
The Reality is Murder has a number of different plots to keep everyone busy. For example, there is the final of Tribal, the mysterious ANTHRO, and the TV shows finances.
The cast of The Reality is Murder includes:

Alex Johnson – personal assistant
Bernie Fraser – A stay-at-home parent and contestant
Bo Bo Hardensfield – TV chef and presenter
Britney Thompson – Tribal's host
Chris Keller – head of security
Cindy Perkins – A waitress from Florida and finalist
Clara Stuart-Fosterson – Finance Director
Derek Lunesdale – A body builder and contestant
Devon Warring – Unemployed and a contestant
Domino Mountford – An eccentric French contestant
Dr Charlie Milahoff – Psychologist
Dr Georgie Palmer – Tribal's on-site doctor
Harry Samson – US Army veteran and contestant
Honey Rider – Bikini model
Jules McGee – A snake and insect expert
Kelly Patterson – A model and contestant
Lou Breakmier – A mystic and contestant
Mary Newby – Production assistant
Matthew Stuart-Fosterson IV – CEO
Mike Hollandale – A real estate agent and finalist
Murray Neilson – Assistant producer
Phoenix – Leader of the Moko Shanti Islanders
PJ Deever – Camera operator
Rev. Hal Cleever – A minister and contestant
Rex Newby – Set designer
Ronnie Brooks – Ski instructor contestant
Sam Wraysford – Producer
Sandy Aikley – Lawyer and finalist
Skua – Phoenix's headstrong son
Summer – Phoenix's daughter
the details
Instead of a formal dinner party, The Reality is Murder is better suited to a buffet meal or finger food.
Everyone needs to be able to talk quietly with each other - to plot and scheme and achieve their goals.

The Reality is Murder needs a dedicated host, someone to organise the game.
They will read the entire game and will be available to answer questions.

I really enjoy being the host - you know what's going on and can watch your friends scheme and plot and be devious to one another.

how to get Casino Fatale
The Reality is Murder is available from Freeform Games:
or download the free intro file
For more information about Casino Fatale, click here to download the free introductory pdf file which includes more details - including background, a full cast list and invitations.
Disclosure: I am a partner at Freeform Games - feel free to ask me lots of questions!  (I will also earn commission if you buy The Reality is Murder.)