Vanished in Vegas
Vanished in Vegas is an interactive murder mystery party for 15-20 guests (plus one host) published by Freeform Games.
Note that if you click on the link below and then buy Vanished in Vegas I will earn a small amount of commission

What happens in Vegas, stays in Vegas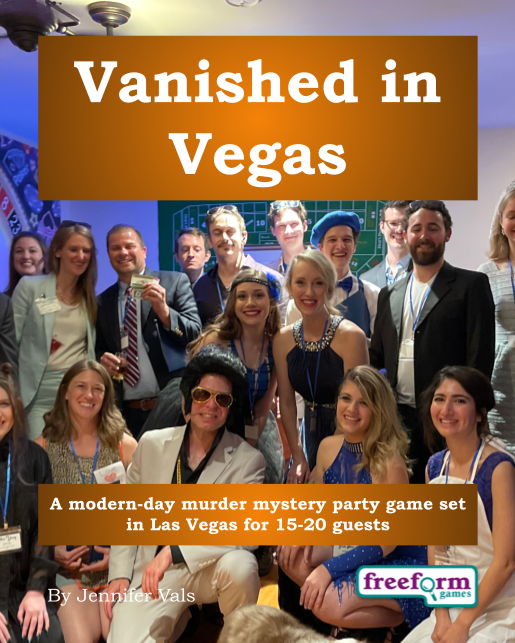 Welcome to Las Vegas!
The Sapphire Hotel and Casino hosts Vegas' hottest ticket – Jaspar the Great's Magic Show. Jaspar never disappoints, and his show climaxes with his famous vanishing act, where he disappears into a case and reappears wearing an extravagant costume unique for each show!
Tonight, however, when his assistant unveiled the case, Jaspar did not reappear – the case was empty! His assistant shrieked and ran off the stage in tears – but was that all part of the act? What happened to Jaspar?
how VAnished in Vegas works
Vanished in Vegas is an interactive murder mystery game, so all the players receive complete details of their character, including a detailed backstory, objectives that they must try to achieve, and information about other characters.
They also have item cards (that represent things like the cooking pot, letters, and money), and abilities (that let them detect secrets find out information about other people).

In my opinion, once you've played an interactive murder mystery game, you won't want to go back to any other style.

the plot
Vanished in Vegas has several different plots to keep everyone busy. For example, there is a rival hotel, animal activists, a ghost, swindlers - and of course a murder to solve.
The cast includes:
"Elvis" – an impersonator
Adair Warner – The Sapphire's jewelry shop owner
Amber Lee – Jaspar the magician's assistant
Brighton Hall – cabana host
Dakota Allen – comedian
Declan Grant – blackjack dealer
Don Giordano – Mafia boss
Franny Green – head housekeeper
Gloria Martin – lounge singer
Greta Starr – showgirl
Harley Jones – pit boss
Jules Stone – wealthy gambler
Lily Davis – newlywed bride
Monique Cruz – Love Animals president
Sadie Bennett – hotel owner's ex-wife
Sheldon Cruz – Governor of Nevada
Sidney Thomas – animal rights activist
Tatum Young – pop star
Tyler Bennett – hotel owner
Will Davis – newlywed groom
the details
Instead of a formal dinner party, Vanished in Vegas is better suited to a buffet meal or finger food.
Everyone needs to be able to talk quietly with each other - to plot and scheme and achieve their goals.

Vanished in Vegas needs a dedicated host, someone to organise the game.

I really enjoy being the host - you know what's going on and can watch your friends scheme and plot and be devious to one another.

how to purchase Vanished in Vegas
Vanished in Vegas is available from Freeform Games.
You will be taken to the Freeform Games LLP website - just follow the instructions to purchase Vanished in Vegas.
You will then be emailed the location of the main Vanished in Vegas pdf files and password (to unlock it) almost immediately.
Just download the game, print it out and have a great murder mystery!

or download the free Vanished in Vegas intro file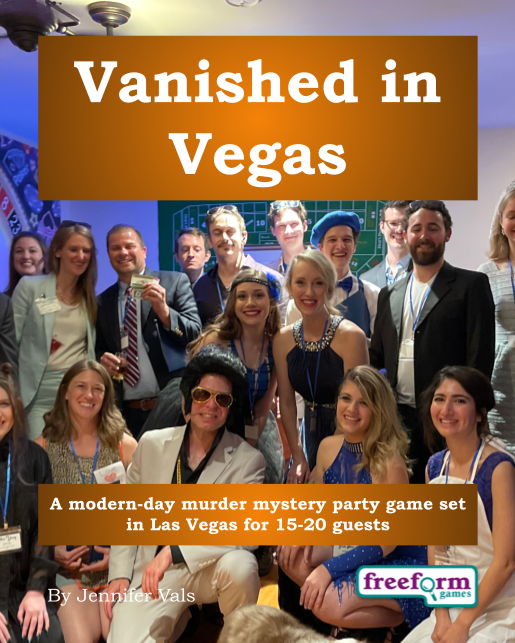 For more information about Vanished in Vegas, click here to download the free introductory pdf file which includes more details - including background, a full cast list, costume guide and invitations.
Disclosure: I am a partner at Freeform Games - feel free to ask me lots of questions! (I will also earn commission if you buy Vanished in Vegas.)

Yes!


Freeform Games offer a cast-iron guarantee on all their murder mystery games. If you're not completely satisfied with Vanished in Vegas then let them know within 30 days and they will refund you.
Freeform Games suggest Vanished in Vegas is suitable for those aged 15+ as it contains the following themes: gambling, embezzlement, romantic rivalry.
I would allow 3-4 hours to play Vanished in Vegas. While the game itself takes 2.5-3 hours to play, I recommend allowing time to introduce the game and wind down after.
Shortly after buying Vanished in Vegas you should receive an email from Freeform Games explaining how to download the game files.

If you haven't received this, please first check your spam filter - sometimes the emails end up there.

If that fails, please get in touch directly with Freeform Games - with the details of which game you bought, when you bought it, and which email address you used. Or contact me (with that same information) and I'll get in touch for you.
You need at least 15 guests and no more than 20.

If you have fewer than 15 guests you will have to drop a character (which may affect the plot), or play a character yourself (not ideal, but I talk about it here), or even ask a guest to play two characters at once.

If you have more than 20 guests you will need to create your own, or use one of the free extra characters provided by Freeform Games when you download Vanished in Vegas.
The host has an important role in Vanished in Vegas. The organize and coordinate the party. They also act as an impartial "referee" - so it's important that they have read the game and understand what is going on.

So I recommend not playing a character and hosting the game. 

But if you still want to host a game and play a character (or you have to because a player cannot attend), I have advice on doing that here.