Casino Fatale
Casino Fatale is an interactive murder mystery party for 15-30 guests (plus one host) published by Freeform Games.
(Note that if you click on the link below and then buy Casino Fatale I will earn a small amount of commission.)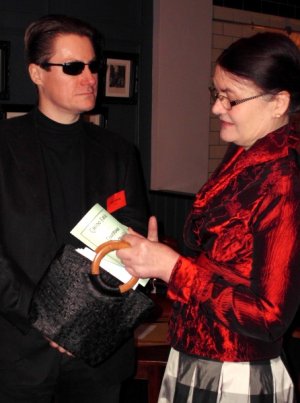 Casino Fatale - but who is Mr X?
the story
On the banks of the River Seine in Paris, the Hotel D'Etoile has a fabulous casino - known as the Casino Fatale.
Rumour has it that the casino is connected with "Mr X", the mysterious underworld boss.
Who is Mr X? Find out at Casino Fatale...

how casino fatale works
Casino Fatale is an interactive murder mystery game, so all the players receive complete details of their character, including a detailed backstory, objectives that they must try to achieve, and information about other characters.
They also have item cards (that represent guns, knives, fabulous jewels and so on), and abilities (that let them detect secrets find out information about other people).
In my opinion, once you've played an interactive murder mystery game, you won't want to go back to any other style.

I ordered and held this murder mystery for my son's 16th birthday party. It was fantastic!!

All the kids and adults, 18 people, got into character and dressed for the party.

They stayed in character the full 4 hours and have continued to talk about it, and all have asked me to host another 2 years later.

Tips are to give each character a note pad, pen and disposable camera when they arrive. (Develop their pictures as a belated party favor, but the host ends up with photos you would have otherwise missed.)


Decorate and have tables of poker or other casino games available.

Finger foods and drinks, water available as desired." Dee, California

the cast and plots
Casino Fatale has a number of different plots to keep everyone busy. For example, there is the charity auction, the identity of Mr X, secret plans, and a criminal turf war.
The cast of Casino Fatale includes:

Various rich and famous guests - playboys, designers, poets, scientists, starlets and the like.
Two French Detectives
the Casino management and staff.
the details
Instead of a formal dinner party, Casino Fatale is better suited to a buffet meal or finger food.
Everyone needs to be able to talk quietly with each other - to plot and scheme and achieve their goals.

Casino Fatale needs a dedicated host, someone to organise the game.

They will read the entire game and will be available to answer questions.

I really enjoy being the host - you know what's going on and can watch your friends scheme and plot and be devious to one another.

how to get Casino Fatale
Casino Fatale is available from Freeform Games:
or download the free intro file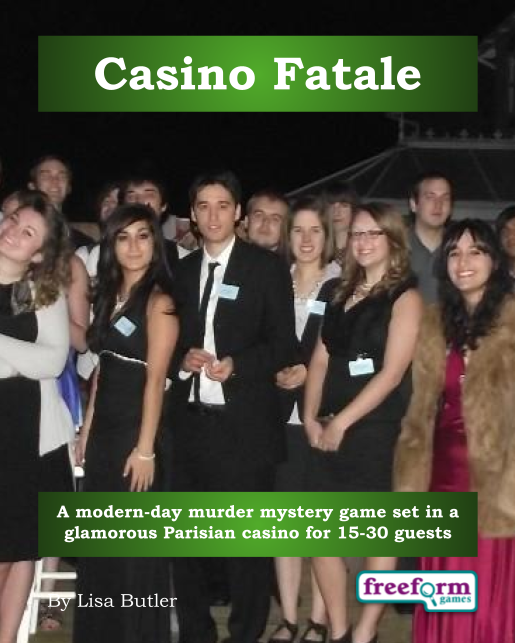 For more information about Casino Fatale, click here to download the free introductory pdf file which includes more details - including background, a full cast list, costume guide and invitations.
Disclosure: I am a partner at Freeform Games - feel free to ask me lots of questions!  (I will also earn commission if you buy Casino Fatale.)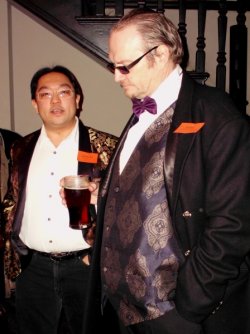 Enjoying Casino Fatale
casino fatale stories and questions
Casino Fatale questions - various questions about Casino Fatale including converting it to the 1920s!
With my Freeform Games hat on I helped run Casino Fatale in London - read about it here.