curse of the pharaoh
Curse of the Pharaoh is an interactive murder mystery party for 6-19 guests (plus one host) published by Freeform Games.
the story
Set at an archaeological dig in Egypt in 1894, one of the diggers has been stabbed to death - just after a previously unknown tomb has been opened. Is it a curse - or is it murder?

how curse of the pharaoh works
Curse of the Pharaoh is an interactive murder mystery game - which means that everybody has a full character with detailed backstory, objectives to achieve during the game and information about other characters.
The game also includes item cards (representing archaeological artefacts and the like) and everyone has ability cards that let the players detect secrets find out information about other people.
In my opinion, interactive murder mystery games are the best - once you've played one you won't want to play any other type of murder mystery.

so what happens in curse of the pharaoh?
The players, playing the parts of the archaeology team and their guests must solve the mystery before the Pharaoh's curse strikes again. But they can't wait too long, for dark forces are breathing life into the Pharaoh!
In Curse of the Pharaoh everyone has a complete character with background, who they know and objectives. The game starts after the murder has occurred, with Sir William Saville (an eminent Oxford archaeologist) hosting a party to celebrate the opening of a previously undiscovered Pharaoh's tomb.

But that's not all, for whoever killed the digger is still at large - and there are other problems. Someone is smuggling artefacts and several characters have secrets they need to keep hidden from the others. And then there's the Pharaoh's Curse - there are those who want the evil Pharaoh to return!

Yes, Curse of the Pharaoh includes magic - ideal if you like your murder mysteries with a hint of the fantastic! (Curse of the Pharaoh includes simple rules for working magic.)

Instead of a formal dinner party, Curse of the Pharaoh better suits a buffet meal or finger food. Everyone needs to be able to talk quietly with each other - blackmail is much harder when everyone else can hear you...

the cast
The cast of Curse of the Pharaoh includes:
Hugh Carlaw: an enthusiastic student.
Eva de Chalons: dilettante and art connoisseur.
Lady Jane Fortesque: a wealthy English widow.
Rev. Godfrey Fox: a Cambridge minister.
Angela Fox: Godfrey's wife.
Marie-Claire Guiscard: an up and coming French archaeologist.
Chris Kovacs: a student archaeologist.
Armand Lenoir: a respected archaeologist.
Helen MacKinnon: the belle of Oxford.
Shahfeez Mahouf: the curator of the Luxor Museum in Egypt.
Tariq and Fatima al-Mansoor: a wealthy antiquarian husband and wife team.
Professor Reginald Mathers: of Cambridge University.
Alex McQueen: an assistant detective.
Ariadne Price-Evans: a veteran translator of hieroglyphics.
Sir William Saville: an eminent archaeologist.
Alvy Spanheim: Cultural Attaché at the German Consulate.
Robert Tregarne: Detective Sergeant in the Colonial Police.
Lindsey Wilde: another student.
Oi You: the servant (the host).
Curse of the Pharaoh needs a dedicated host, someone to organise the game. They play "Oi You" the servant and will read the entire game and will be available to answer questions.
I really enjoy being the host - you know what's going on and can watch your friends scheme and plot and be devious to one another.
stories from Curse of the Pharaoh
Here are some comments about Curse of the Pharaoh from other people who have played it.
"My favourite moments were Sir William "negotiating" with the locals..."
"Just to let you know that my daughter played Curse of the Pharaoh with 9 other girls for her 17th birthday party and it was a great hit. We haven't done anything like this before and admittedly it was quite a complex plot for a first attempt! However everyone loved dressing up (especially dressing as men!) and they all had a great time. Thought you'd welcome the feedback! Thanks very much." Liz
"We played Curse of the Pharaoh - with the amount of alcohol in attendance I think Queen Bity managed to destroy most of the human race along with the Pharaoh - she overdid the chanting we believe!!! A few confused of Hertfordshire attendants died and resurrected several times but all in all a good time was had by all!!" Pippa, England
how to purchase Curse of the Pharaoh
Curse of the Pharaoh is available from Freeform Games.

or download the free intro file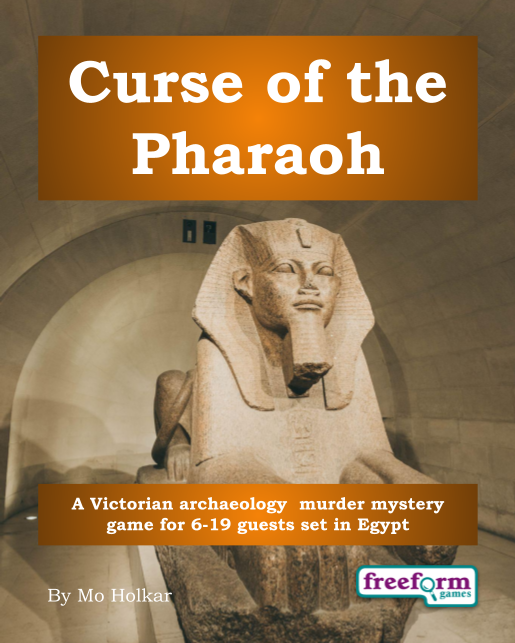 For more information about Curse of the Pharaoh, click here to download the free introductory pdf file which includes more details - including background, a full cast list, costume guide and invitations.
Disclosure: I am a partner at Freeform Games - feel free to ask me lots of questions!