davy jones' locker
Davy Jones' Locker is a pirate murder mystery party for 10-15 guests (plus one host) published by Freeform Games.
(Note that if you click on the link below and then buy Davy Jones' Locker l will earn a small amount of commission.)

the story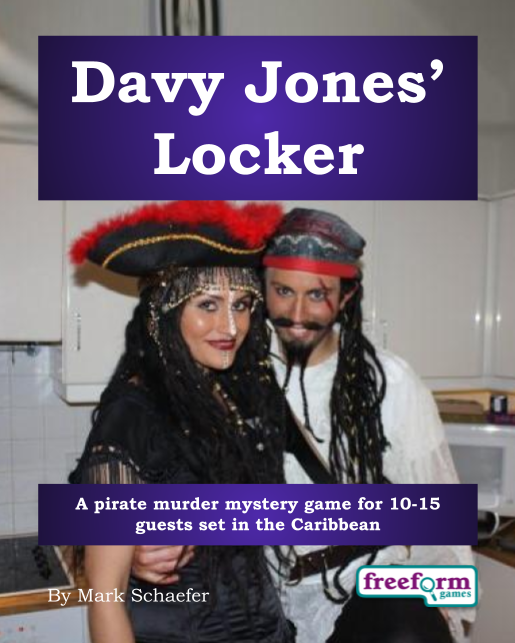 It is 1785, and Abel "Blackheart" Read , the Caribbean's most nefarious pirate, has been captured and hung.
Tonight, the Libra, departs from Tortuga on its journey to St. Augustine, Florida.
For some of its passengers, this will prove to be a profitable journey.
For others, Tortuga may be the last dry land they ever see...
how davy jones' locker works
Davy Jones' Locker is an interactive murder mystery game, which means that everyone gets a complete character with detailed backstory, objectives to achieve during the party and information on other characters.
Characters also get item cards (representing bibles, pirate cutlasses, the directions to Blackheart's treasure, and other pirate goodness) and abilities (that let them do things such as detect secrets and find out information about other people).
Davy Jones' Locker has a number of different plots to keep everyone busy. For example, there is a gypsy curse, a runaway daughter, wreckers fleeing the wrath of Calico Jack - and of course the mystery of how Blackheart was captured to solve.
In my opinion, interactive murder mystery games are the best - once you've played one you won't want to play any other.

the cast
The cast of Davy Jones' Locker includes:
Captain Hargrave: Captain of the Libra – formal, proper and straight-laced.
Sister Agnes: A nun.
Jean La Croix: A retired French Naval officer.
Dirty Dana: An opium dealer.
Esmerelda: A flamboyant gypsy.
Rusty Mike: A ruthless bounty-hunter wearing an eye-patch.
Slippery Pete: A grizzled ex-pirate and seaman.
Darrell Sims: A plantation manager.
Saucy Sue: A Tortugan wench.
Rummy Ike: A sailor.
Drunken Willie: A Tortugan drunk.
the details
Instead of a formal dinner party, Davy Jones' Locker is better suited to a buffet meal or finger food.
Everyone needs to be able to talk quietly with each other - to plot and scheme and achieve their goals.

Davy Jones' Locker needs a dedicated host, someone to organise the game.

I really enjoy being the host - you know what's going on and can watch your friends scheme and plot and be devious to one another.

how to get davy jones' locker
Davy Jones' Locker is available from Freeform Games for $29.99 USD.
or download the free intro file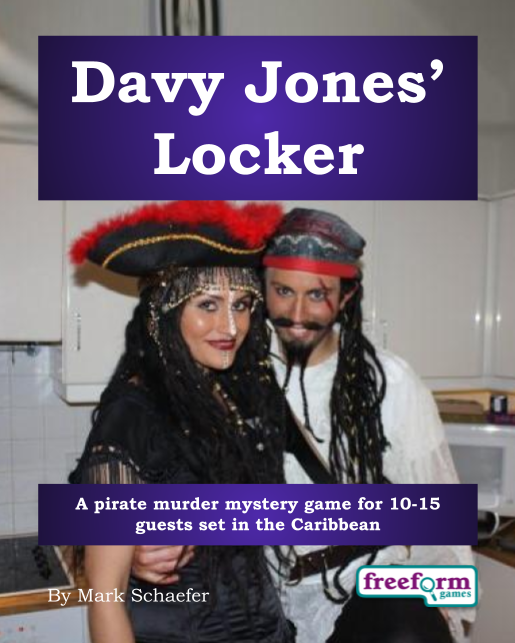 For more information about Davy Jones' Locker, click here to download the free introductory pdf file which includes more details - including background, a full cast list, costume guide and invitations.
Disclosure: I am a partner at Freeform Games - feel free to ask me lots of questions! (I will also earn commission if you buy Davy Jones' Locker.)