dazzled to death
Dazzled to Death is an interactive murder mystery party for 12-15 guests (plus one host) published by Freeform Games.
Note that if you click on the link below and then buy Dazzled to Death I will earn a small amount of commission

the story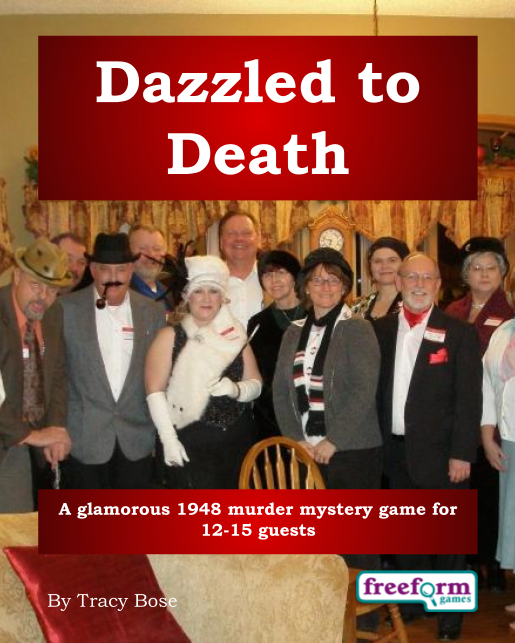 It is 1948.
The socialite Evington-Browne family ("E-B" to their friends) and guests are preparing for their annual cocktail party, held at the family's hunting lodge in the White Mountains north of Boston.
A fierce storm has now set in, and the party finds itself cut off from the rest of the world.
This is unfortunate, as the valet of one of the guests has been found dead in the kitchen...

how dazzled to death works
Dazzled to Death is an interactive murder mystery game, so all the players receive complete details of their character, including a detailed backstory, objectives that they must try to achieve, and information about other characters.
They also have item cards (that represent paintings, poison and even the fabulous "Dazzling Diamonds"), and abilities (that let them detect secrets find out information about other people).

In my opinion, once you've played an interactive murder mystery game, you won't want to go back to any other style.

the plot
Dazzled to Death has a number of different plots to keep everyone busy. For example, there is a cat burglar, the bestowing of the diamonds themselves, various family secrets - and of course the murder to solve.
The cast includes:

John Evington-Browne III: Respected businessman and head of the family.

Rose Evington-Browne: John's much-loved wife.

Patrick Evington-Browne: John and Rose's 20-year-old son.

Evie Evington-Browne: John and Rose's 21-year-old and wilful daughter.

Tracy Evington-Browne: John and Rose's youngest (16 years old) and mischievous daughter.

Priscilla Evington-Browne: John's elderly and often forgetful aunt.
Agatha Marbles: Priscilla's elderly English friend and allegedly famed detective.

James Pemberton: Rose's brother. Art dealer and traveller.

Charles Pemberton: James's son, currently a student at Harvard.

Dr. Bruisyard: Retired family doctor and friend.

Miles Earnshaw: Unexpected guest, friend from Rose's youth.

Soames: Butler/Housekeeper.

Dinah Peters: Cook (temporary stand-in for usual cook).

Reggie Haven: Young socialite friend of Evie's.

Christy Crompton: Young fellow-student friend of Patrick.

the details
Instead of a formal dinner party, Dazzled to Death is better suited to a buffet meal or finger food.
Everyone needs to be able to talk quietly with each other - to plot and scheme and achieve their goals.

Dazzled to Death needs a dedicated host, someone to organise the game.

I really enjoy being the host - you know what's going on and can watch your friends scheme and plot and be devious to one another.

Dazzled to Death stories
Here are some stories about Dazzled to Death from other people who have played it.
"I'm a 16 year old girl and I did this story for my 16th birthday party!! Everyone really enjoyed it but some people were spilling out info about their characters so it kind of wrecked it a bit - so I wouldn't invite them again. Everyone seemed to get into the party just as it had finished!! :) Thanks for such a great day!" Hannah D, England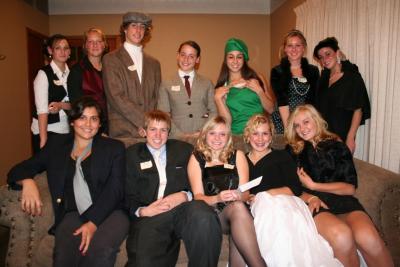 "I thought you might enjoy a picture from the party! Thanks again!" Scott
how to purchase dazzled to death
Dazzled to Death is available from Freeform Games.
You will be taken to the Freeform Games LLP website - just follow the instructions to purchase Dazzled to Death. You will then be emailed the location of the main Dazzled to Death pdf files and password (to unlock it) almost immediately.
Just download the game, print it out and have a great murder mystery!

or download the free dazzled to death intro file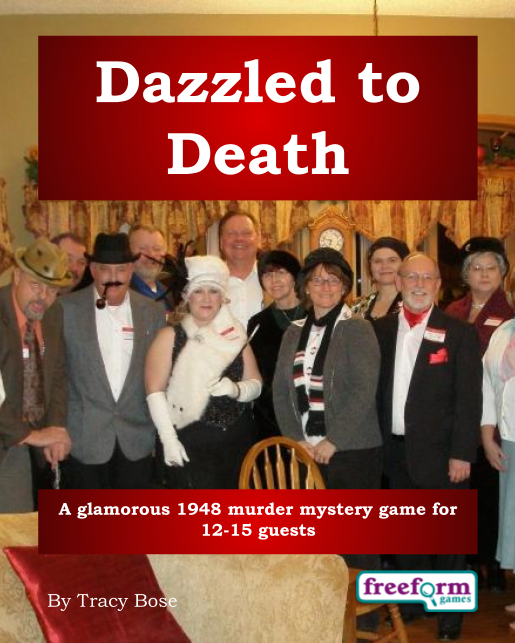 For more information about Dazzled to Death, click here to download the free introductory pdf file which includes more details - including background, a full cast list, costume guide and invitations.
Disclosure: I am a partner at Freeform Games - feel free to ask me lots of questions! (I will also earn commission if you buy Dazzled to Death.)