Death on the Gambia
Death on the Gambia is a 1939 African murder mystery party for 8 to 11 guests published by Freeform Games.
(Note that if you click on the link below and then buy Death on the Gambia I will earn a small amount of commission.)

the story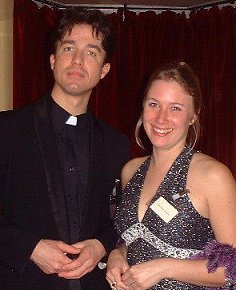 Set in 1939, Death on the Gambia follows a tramp riverboat as it sails along the River Gambia in Africa.
Aboard are a curious mixture of passengers - a big game hunter, a missionary, a doctor, a journalist, an archaeologist and more.
All of the passengers have secrets, and the journey will be one to remember...

how death on the gambia works
Death on the Gambia is an interactive murder mystery game, which means that each player receives a detailed character background including full backstory, objectives for them to try to achieve, and information about the other players.
They also have item cards (representing things such as an archaeological artefact, a pair of handcuffs or a codebook) and abilities (that let them do special things such as picking pockets and detecting secrets).
In my opinion, interactive murder mysteries are the best form of murder mystery game. But don't just take my word for it...

death on the gambia stories
"Everyone unanimously agreed that this (Death on the Gambia) was 100 times better than the sit-down mystery scripted games! And I've been asked several times in the past weeks when I'm doing the next one." Jessica Schweitzer
"I hosted Death On the Gambia this weekend and it came off wonderfully! Thank you so much for recommending it. It was my first mystery party, but it won't be my last." April McCauley

"Talking to my friends your games are much better than the ones with tapes. I have had various guests who had played murder mysteries before that weren't a patch on yours and didn't want to come...now they are raving about it! I hadn't laughed as much in years!" Jane Aireton

"All in all, a very successful evening - the second time I've seen Death on the Gambia run, and with a completely different set of outcomes. Just as enjoyable second time around however!" David Fulton, England

"I thought it (Death on the Gambia) was an awesome game - we had a great time. I've played murder-mysteries, but I liked the action and mingle in your games, and the goals, allowing for more flexibility of play. Both times I played seemed like completely different games, as it worked out, which I also found to be really cool." Barbara Hass, Indiana

what? no murder?
Rather unusually, Death on the Gambia doesn't start with a murder - and a murder might not actually take place during the evening.
That depends entirely on the players - the characters have reasons to attempt murder.
And of course there's a detective to keep an eye on everyone.
Death on the Gambia has a number of different plots to keep everyone busy. For example, there's a stolen artefact, ruby smugglers and German and British spies. Plus an assassin, secret jungle experiments - and more.

the cast
The cast of Death on the Gambia includes:
Jane Carter: an American journalist working for the Gambia Tribune.
Dexter Fairchild: an intrepid big game hunter from England.
Captain Sam Ironheart: captain of the Christabel.
Uzoma Jobe: first mate aboard the Christabel.
Joey Keene: one of Gambia's finest detectives.
Connor McDouglas: a rugged Scottish archaeologist, adventurer and finder of antiquities.
Marie Renard: a famous French artist.
Gabe Schwartz: a brilliant German doctor bringing aid to the peoples of the jungle.
Caroline Tanner: an English widow seeing the world.
Alex Thomas: chief buyer for the Happy Peanut Spread Company.
Vic Townhill: an English missionary bringing the word of God to the peoples of the jungle.
the details
Instead of a formal dinner party, Death on the Gambia is better suited to a buffet meal or finger food.
Everyone needs to be able to talk quietly with each other - to plot and scheme and achieve their goals.

Death on the Gambia needs a dedicated host, someone to organise the game.

I really enjoy being the host - you know what's going on and can watch your friends scheme and plot and be devious to one another.

how to get death on the gambia
Click here to purchase Death on the Gambia from Freeform Games.
You will be taken to the Freeform Games LLP website - follow the instructions to purchase Death on the Gambia.
Just download the game, print it out and have a great murder mystery!
Disclosure: I am a partner at Freeform Games - feel free to ask me lots of questions! (I will also earn commission if you buy Death on the Gambia.)
Yes!


Freeform Games offer a cast-iron guarantee on all their murder mystery games. If you're not completely satisfied with Death on the Gambia then let them know within 30 days and they will refund you.
Freeform Games recommends Death on the Gambia is suitable for those aged 15+ as it is potentially quite violent (simulated, not real violence!) and calls for a good deal of duplicity.
I would allow 3-4 hours to play Death on the Gambia. While the game itself takes 2.5-3 hours to play, I recommend allowing time to introduce the game and wind down after.
Shortly after buying Death on the Gambia you should receive an email from Freeform Games explaining how to download the game files.

If you haven't received this, please first check your spam filter - sometimes the emails end up there.

If that fails, please get in touch directly with Freeform Games - with the details of which game you bought, when you bought it, and which email address you used. Or contact me (with that same information) and I'll get in touch for you.
You need at least 8 guests and no more than 11.

If you have fewer than 8 guests you will have to drop a character (which may affect the plot), or play a character yourself (not ideal, but I talk about it here), or even ask a guest to play two characters at once.

If you have more than 11 guests you will need to create your own, or use one of the free extra characters provided by Freeform Games when you download Death on the Gambia.
The host has an important role in Murder at Sea. The organize and coordinate the party. They also act as an impartial "referee" - so it's important that they have read the game and understand what is going on.

So I recommend not playing a character and hosting the game. 

But if you still want to host a game and play a character (or you have to because a player cannot attend), I have advice on doing that here.
death on the gambia stories and queries
Here are other Death on the Gambia stories and queries: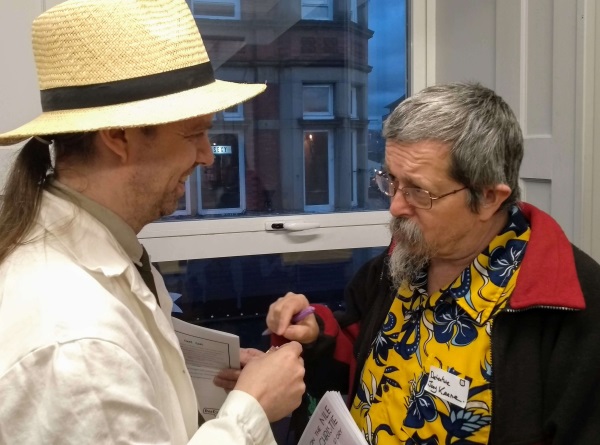 Click here to purchase Death on the Gambia from Freeform Games.