lei'd to rest
Lei'd to Rest is an interactive murder mystery party for 6-22 guests (plus one host) published by Freeform Games.
(Note that if you click on the link below and then buy Lei'd to Rest I will earn a small amount of commission.)

the story

Lokuhai Beach is a small, isolated beach owned by Harmony Cove Resort, about a half-hour drive through rocky, mountainous countryside. Advertised as the "Last Real Hawaiian Beach", it's gorgeous... 
However, the luau started badly... the bus broke down on the way to the beach, and everyone had to walk the last fifteen minutes.
Everyone's cell phones seem to be unable to reach out of the mountains to the resort (or anywhere else), and the driver has been unable to get the bus running again...
how lei'd to rest works
Lei'd to Rest is an interactive murder mystery game, which means that each player receives a detailed character booklet that includes a backstory, objectives for them to solve and information on other characters.

They may also have item cards (that may represent important clues) and abilities (that allow them to uncover secrets and information about other characters.)

In my opinion, once you've played an interactive murder mystery game, you won't want to play any other sort.
the cast
The cast of Lei'd to Rest includes:
Annatto - a religious follower
Elsie Brighton - one half of a pair of newlyweds
Ned Brighton - the other newlywed
Sarafina Chavez - an aspiring actress
Anson Hardasty - a Wealthy elderly businessman
Max Hartnett - Anson's best lawyer
Keoni - a tour guide and traditional Hawaiian entertainer
Dr. Penny Kingsbury - a doctor
Mojo Mo - a Hawaiian master cook and occasional witch doctor
Anna Nayuki - a real estate agent
Jack Slack - a small-scale entrepreneur
Mel Squant - grandparent and tourist
The Bus Driver - the host
the details
Set at a beachside luau party on Hawaii, Lei'd to Rest is ideal for any summer party out of doors, maybe with a pool and a barbecue... You can easily give your party a Hawaiian theme by decorating with tiki masks, leis and so on.
Lei'd to Rest needs a dedicated host, someone to organise the game (in this case playing the part of the Bus Driver).
I really enjoy being the host - you know what's going on and can watch your friends scheme and plot and be devious to one another.
how to get lei'd to rest
Lei'd to Rest is available from Freeform Games and comes in two versions. 
or download the free intro file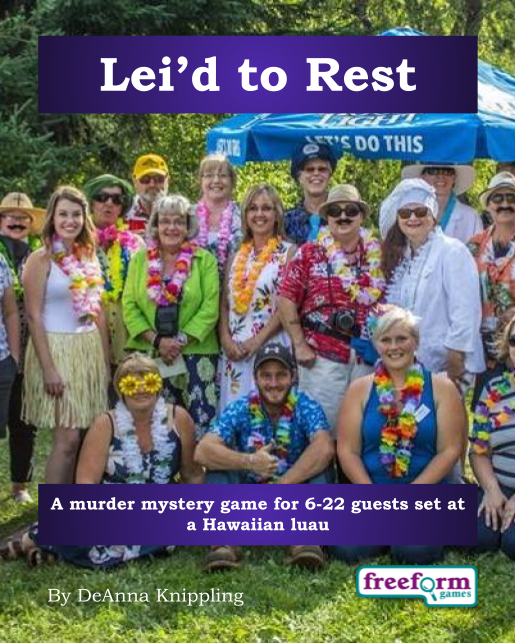 For more information about Lei'd to Rest, click here to download the free introductory pdf file which includes more details - including background, a full cast list, costume guide and invitations.
Disclosure: I am a partner at Freeform Games - feel free to ask me lots of questions!  (I will also earn commission if you buy Lei'd to Rest.)