snow business
Snow Business is an interactive murder mystery party for 10-12 guests (plus one host) published by Freeform Games.
(Note that if you click on the link below and then buy Snow Business I will earn a small amount of commission.)

the story
Each winter, the Harrisons and the Perrys ski in the French Alps and always rent the Chalet Flaubert. They hire the whole chalet and bring both families and friends.
The holidays are usually an opportunity to relax and unwind away from the pressures of normal life, but this year is different...
This year, there have been arguments and accidents - and heavy snow has blocked the roads.
Tonight, however, real tragedy has struck.
A few minutes ago, John Morgan was found dead at the foot of the attic steps, his neck broken at an unfortunate angle.
Nobody can leave the chalet; and there is no phone or radio...

Did John fall or was he pushed?
the cast
The cast of Snow Business consists of the following characters:
The Harrisons
Harold Harrison: Harold is an accountant and also does the accounts for Bank Farm Stables.
Mariella Harrison: Mariella is an expert horsewoman and jointly runs the Bank Farm Stables riding school with her sister Jacqueline. Mariella and Harold are married and have one daughter, Lucy.
Lucy Harrison: Lucy is 18 and is taking a year out before going to university in September. She has sprained her wrist skiing.
The Perrys
Daniel Perry: Daniel is a celebrated musician and is married to Jacqueline.
Jacqueline Perry: Jacqueline is Mariella's younger sister and business partner at Bank Farm Stables. She is also an expert horsewoman.
Jonathon Perry: Jonathon is Daniel and Jacqueline's son and is currently in his first year at university studying medicine.
Travis Perry: Travis is Daniel's brother and a city lawyer.
Friends, Family and Strangers
Amy Morgan: Amy is Harold's sister. She is a librarian and author of several children's books.
John Morgan: John is Amy's husband and a software designer.
Alex Harvey: Alex is Jacqui and Mariella's cousin, and Mariella's best friend. Alex is an ex-show jumper who now does radio commentary for horse events.
Robin Fay: Robin is a family friend of the Perry's. Robin is a pianist, composer and conductor.
Jo Robertson and Max Parker: Jo and Max are two skiers stranded at the chalet.
Chris Harper: Chris is the chalet host.
Two of these characters are optional - Snow Business plays equally well with ten, eleven or twelve guests.
the details
Snow Business needs a dedicated host, someone to organise the game (in this case playing the part of Chris Harper, the chalet host).

I really enjoy being the host - you know what's going on and can watch your friends scheme and plot and be devious to one another.

how to get Snow Business
Snow Business is available from Freeform Games LLP.
or download the free intro file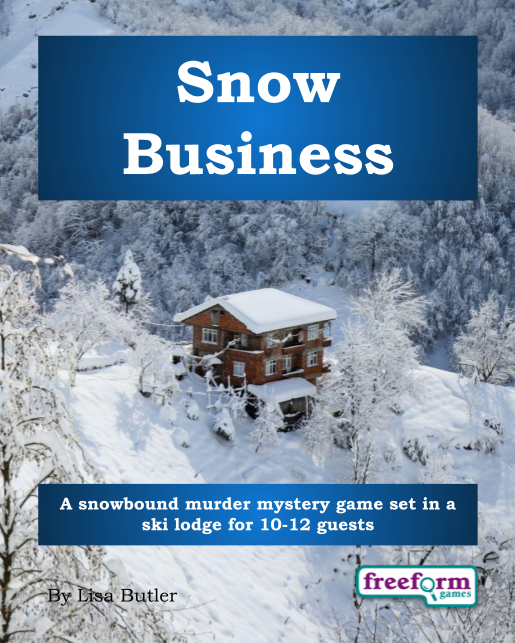 For more information about Snow Business, click here to download the free introductory pdf file which includes more details - including background, a full cast list, costume guide and invitations.
Disclosure: I am a partner at Freeform Games - feel free to ask me lots of questions!  (I will also earn commission if you buy Snow Business.)

Yes!


Freeform Games offer a cast-iron guarantee on all their murder mystery games. If you're not completely satisfied with Snow Business then let them know within 30 days and they will refund you.
Freeform Games recommends Snow Business for those aged 18+ as it contains the following themes: references to infidelity, and a potential cousin relationship.
I would allow 3-4 hours to play Snow Business. While the game itself takes 2.5-3 hours to play, I recommend allowing time to introduce the game and wind down after.
Shortly after buying Snow Business you should receive an email from Freeform Games explaining how to download the game files.

If you haven't received this, please first check your spam filter - sometimes the emails end up there.

If that fails, please get in touch directly with Freeform Games - with the details of which game you bought, when you bought it, and which email address you used. Or contact me (with that same information) and I'll get in touch for you.
You need at least 10 guests and no more than 12.

If you have fewer than 10 guests you will have to drop a character (which may affect the plot), or play a character yourself (not ideal, but I talk about it here), or even ask a guest to play two characters at once.

If you have more than 12 guests you will need to create your own, or use one of the free extra characters provided by Freeform Games when you download Snow Business.
The host has an important role in Snow Business. The organize and coordinate the party. They also act as an impartial "referee" - so it's important that they have read the game and understand what is going on.

So I recommend not playing a character and hosting the game. 

But if you still want to host a game and play a character (or you have to because a player cannot attend), I have advice on doing that here.