Murder mystery party photographs
A good photograph helps make for wonderful memories of your party. Here are some tips for taking memorable murder mystery party photograph.
taking photographs of your murder mystery party
Murder mystery parties are great occasions for taking photographs. I've taken lots of photos at murder mystery parties - and far too many of them have been mediocre or worse. Here, then, are my tips for making sure that your photos are something to be proud of.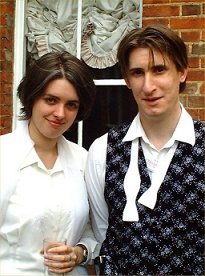 This murder mystery is set aboard an ocean liner - this photo would have been better with an appropriate background
Pick your background
Backgrounds: One thing that can really spoil a photograph is a poor choice of a background.
A plain wall is often best - some kind of theme backdrop is even better.
Take photos early
Timing: I prefer to take photos at the start of a party. There are two reasons for this - the first is that I am usually hosting the game, and I find I am often too busy once the party gets rolling.
The other reason is that the costumes are usually better at the start of the evening - after a while ties and buttons are undone, hats are removed and costumes generally look a little more ragged.

On the other hand, taking photos at the end of the party can be good as well. If the party has gone well, everyone is buzzing and that can really come over in a group photograph.
Posed or unposed?
Posed or unposed: In short - posed.
Whenever I try and take unposed photographs at a murder mystery party, I tend to get an awful lot of photographs of people's backs...

A fairly typical photograph of lots of players' backs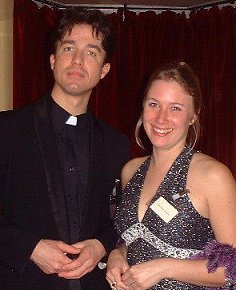 A nice posed photo. (Shame about the curtain pole.)
Groups or couples?
Groups v couples: I find that taking photos of couples works really well - it's best if you hold the camera on its site and take a "portrait" style photo rather than landscape.
Taking photos of groups is okay, but there's a point where you can't tell who everyone is, particularly with cheaper cameras and large groups.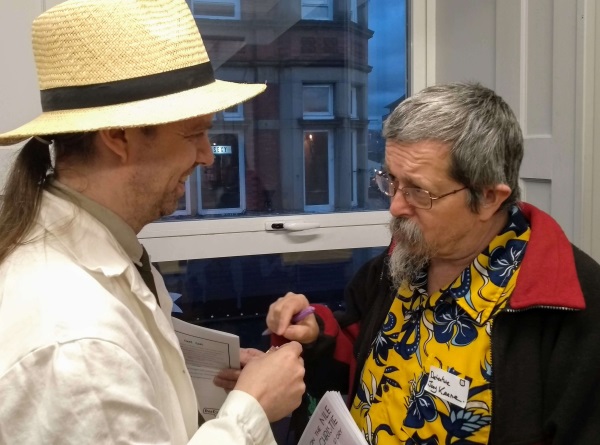 Close up of two characters busy negotiating in Death on the Gambia. I cropped this slightly for added impact.
And that's about it - have a good party and take lots of photographs!