How to host a murder
 This article contains tips and hints for how to host a murder mystery party, from choosing the game to inviting guests, casting and preparing the venue.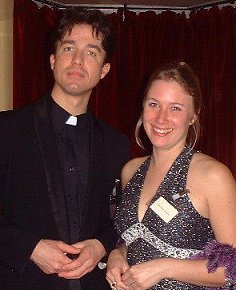 Two players enjoying a well-planned murder mystery party
Take your time...
I find that the more time spent planning and preparing for a murder mystery party, the more fun that everyone (me and my guests) has.
These notes will help you plan how to host a murder party with as little stress as possible.
Now, you can organise and host a party at very short notice (as little as two days, if you like). However, I don't recommend doing that as I prefer a much less stressful life.

Here, then, is my recommended timetable.

6 weeks in advance
Choose your murder mystery party
Have a look around this site and decide which game appeals to you. If you're not sure which game to choose, click here to read choosing a murder mystery party game.
Once you have chosen your murder mystery party, I recommend that you purchase it straight away rather than leave it to the last minute.
That way you will have sufficient time to read it and absorb everything.
Think about your venue
You should also consider a venue for your party. Do you already have somewhere in mind, or do you need to start looking?
The only critical requirement for a venue is to ensure that it has enough space for your guests to mingle.
Smaller games can probably be held at a house, but the larger games (certainly anything with more than 20 people) probably needs a large function space such as a village or school hall.
Here are some things to think about when choosing a venue.

One month before
Print the game
Print the entire game out and read the whole game - including the characters.
For this printing, I often print the game at two sheets to a page (and double-sided if possible) to save paper. If you have older guests, or guests with poor eyesight, you should probably keep to one sheet to a page.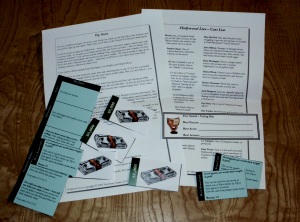 A typical murder mystery game character pack.
invite your guests
Set a date, and start inviting guests.
Don't start allocating characters to guests at this point, as all you are trying to do is generate interest in your party.
Send out the following information:
A description of the game - possibly copied from the website or the introductory file.

When and where you are planning on hosting your party.
A date for your guests to reply - at this point you are simply getting commitment.
Some won't be able to attend and you need to identify those now, before it's too late.
If your guests want more information, you could email some of the tips for playing to them.

(If you're in the enviable position of having too many guests, you have two choices. Either you can buy a larger game, or you can write your own characters.)

Costumes and decorating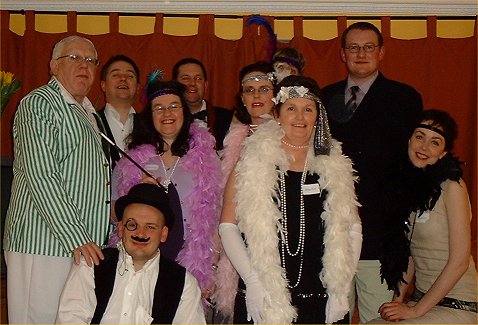 Great costuming for a murder mystery party
Some of your guests may want to start thinking about costumes.
For them you will either have to cast them now, or tell them what sort of character they can expect (for example, a ship's officer or first class passenger in Murder at Sea).
Decide whether you are going to decorate your venue to suit your party.
At the very least you should consider removing any anachronistic items and decorations.
You can, of course, really go to town on it!
Click here for some tips on creating a good atmosphere.

Food planning
I recommend finger food (such as salad or pizza) for an interactive murder mystery party so that guests can continue to mingle and for the party to carry on uninterrupted.
If you choose to have a sit-down meal your party will probably take longer. You will need to allow everyone to get up and move around between courses.
When I am organising the murder mystery, I try whenever possible to get someone else to organise the food.
What works well is for guests to bring a different dish for a buffet - one brings sandwiches, another salad and yet other guest brings chips.

Two weeks before
Printing
Print out everything you need for the game and stuff envelopes.
Do this now; I have been printing out and stuffing envelopes a mere two hours before a party before now, but I really don't recommend that as there are usually other things I should be doing then.
Envelope stuffing can take a couple of hours.

Finalise the guest list
Chase guests that haven't replied to your initial invite as it can be really frustrating if guests don't turn up.
Start casting to give your guests as long as possible to get their costumes ready.
Don't, however, finish casting though as you may need some flexibility with some characters if guests cancel between now and your party.
(Click here for how to plan for when guests don't turn up.)

one week before
Send out full information
Send out the full invites - with the full character information if you are sending that out in advance.
(Sending out the full character information in advance is optional, but many people recommend it. If you do send out character details in advance, don't send things like money or item cards.)
You should also include directions to the venue, for those who don't know where it is.

Finalise the food - or at least check that the food and drink is in hand if other are producing it for you.
Check you understand the rules
Run through the rules with a co-host (if you're using one) or a friend (if you're not).
Some murder mystery games include rules for things such as gunfights, and you will find it easier during the party if you have already tried them out.
You could get a guest to help you with the rules, but that may give them an advantage when it comes to the party, so pick someone who is unlikely to have much involvement in those particular rules.

How to host a murder - On the Day
Prepare your venue (move anything delicate out of harm's way, make sure you have enough seating, clear a space for the food and drink).
Then, just follow the instructions that come with the game and have a good party!
And that's all there is to it - that's how you host a murder mystery party!
Let me know how it goes!
And please - let me know how it goes!
You can tell me all about your murder mystery party here.